After a long night out, calling an Uber or a Lyft can help save you from fines, fees, and a court date. Rideshare services have become an important transportation option for many Americans, and when you use one instead of driving drunk, you're making the right decision. For this study, we looked at the true cost of a DUI in every state – from attorney fees, to court fines, to increased insurance costs – to see how much using an Uber can save you in the long run. The choice is clear: using a rideshare service can save your life and your money.
The U.S. States with the Highest Cost Difference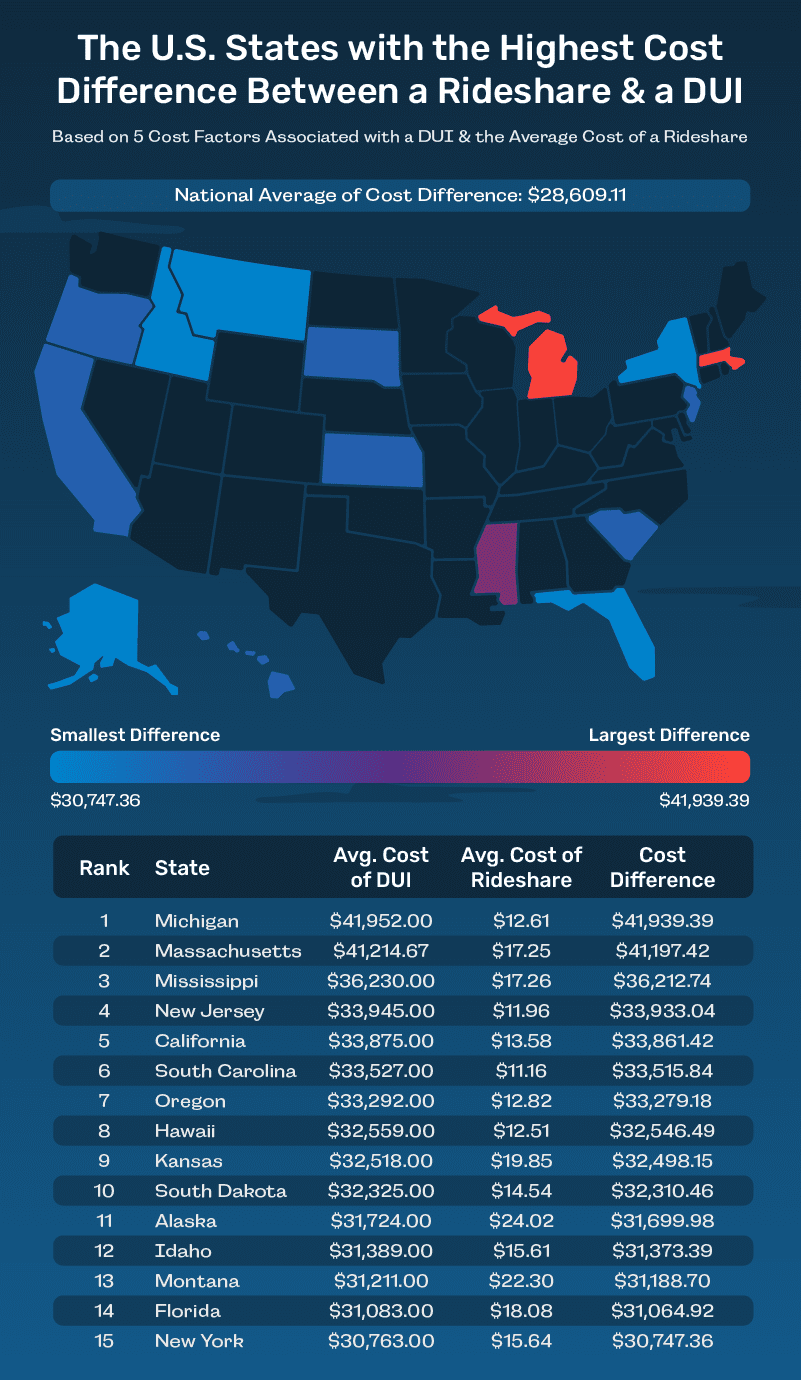 Avoiding a DUI anywhere will save you a lot of money, but Michigan has the highest cost difference between rideshares and DUIs. Residents of Michigan enjoy relatively low rideshare prices, with a 20-minute ride costing them $12.61 on average. In contrast, being charged with a DUI in Michigan can cost you somewhere in the ballpark of $41,952.00, so calling an Uber or Lyft after a party in Michigan can save you nearly $42,000.00.
Vermont has the lowest average DUI cost at $19,660.00 and the tenth-lowest average rideshare cost at $12.78. Even so, receiving a DUI in Vermont costs over 1,500 times more than getting a ride from an Uber driver. If you're thinking about driving after enjoying some celebratory drinks in Vermont, remember that even if you end up having to pay a rideshare driver hazard pay, it will cost much less than attempting to navigate the state's mountainous terrain on your own while intoxicated.
Mississippi came in third on our list of U.S. states with the highest cost difference between DUIs and rideshares. On average, the cost difference between a DUI and using a rideshare in Mississippi is $36,212.74. For many people in Mississippi, a DUI could cost more than what they make in a year, as the state's average per capita income is $26,807. Another study found that Mississippi is the worst state for drunk drivers, with 543 DUI-related deaths over the course of three years.
The Cost of DUI Across the Country
To calculate the average cost of DUIs across the country, we took into account several factors, including increases in insurance premiums, average medical care costs, and attorney costs, among others.
Your driving privileges will likely be revoked or restricted after getting charged with a DUI in many states across the country. Even if you get to keep your license after being found driving under the influence, your insurance premium will likely increase by a considerable amount. Drivers in Michigan and California can respectively expect to spend $6,129.00 and $4,573.00 more per year following a DUI charge.
When it comes to fatal DUI-related accidents, you're looking at a lengthy recovery period, both medically and financially. Depending on the severity, surviving a car accident resulting from a DUI may cost someone thousands of dollars in medical care. Nationwide, the average medical cost for surviving drivers of a DUI-caused fatality is $15,036.88. Michigan and Kansas have the highest medical costs at $23,125.00 and $21,621, respectively, while Vermont and Rhode Island are the lowest at just under $8,000 each.
Finding a DUI attorney to represent you in court is another costly endeavor resulting from driving under the influence. Many attorneys charge hundreds of dollars per hour to help reduce your DUI to a reckless driving charge. For example, attorneys in Mississippi charge around $15,000, on average to represent those facing DUI charges.
Closing Thoughts
Acquiring a DUI charge is one of the quickest ways to raise your auto insurance premium. According to our study, drunk drivers can face an annual upcharge of over $5,000 dollars under the right circumstances. Keeping a clean driving record is the best way to ensure you get the lowest insurance quote possible. Connect with our licensed insurance experts at Assurance IQ to shop and compare auto insurance plans that reward your safe driving habits.
After doing the math, the choice should be clear: calling an Uber, or Lyft, or other rideshare service for the night can save you money and, in many cases, your life. Relying on a rideshare service to pick you up after a long night of socializing can help prevent a whirlwind of pain and financial hardship.
Getting a ride home from Uber costs about $30.00 per trip on average, though your rates may differ depending on distance and time of day. Whatever the charge, it will always be lower than the average $30,000 of consequences you could face in the event of a DUI-caused driven car crash. In short, make the easy choice: don't drink and drive, find a ride.
Methodology
To find out the cost difference between DUIs and rideshares across the country, we found the average cost of a 20-minute ride using Uber in multiple major cities across the U.S., then averaged each together to find the cost for the state. We then collected the following major data points from the sources listed below in November 2022.
Major data points collected (with sources):
Find an auto insurance policy that meets your needs.
Find an auto insurance policy that meets your needs.