Over the last decade, more Americans have been delaying having children or not having children at all due to myriad reasons, including concerns about medical, financial, and capacity issues.
This has led to a nationwide decline in birth and fertility rates. Here, we examine how today's fertility rates have changed from years past, and what parts of the country have seen the largest fluctuations. Using natality data from the Centers for Disease Control and Prevention, we determined the fertility rate in every U.S. state and mapped out which have experienced the biggest (and smallest) dips from 2007 to 2021.
U.S. States With the Highest and Lowest Fertility Rates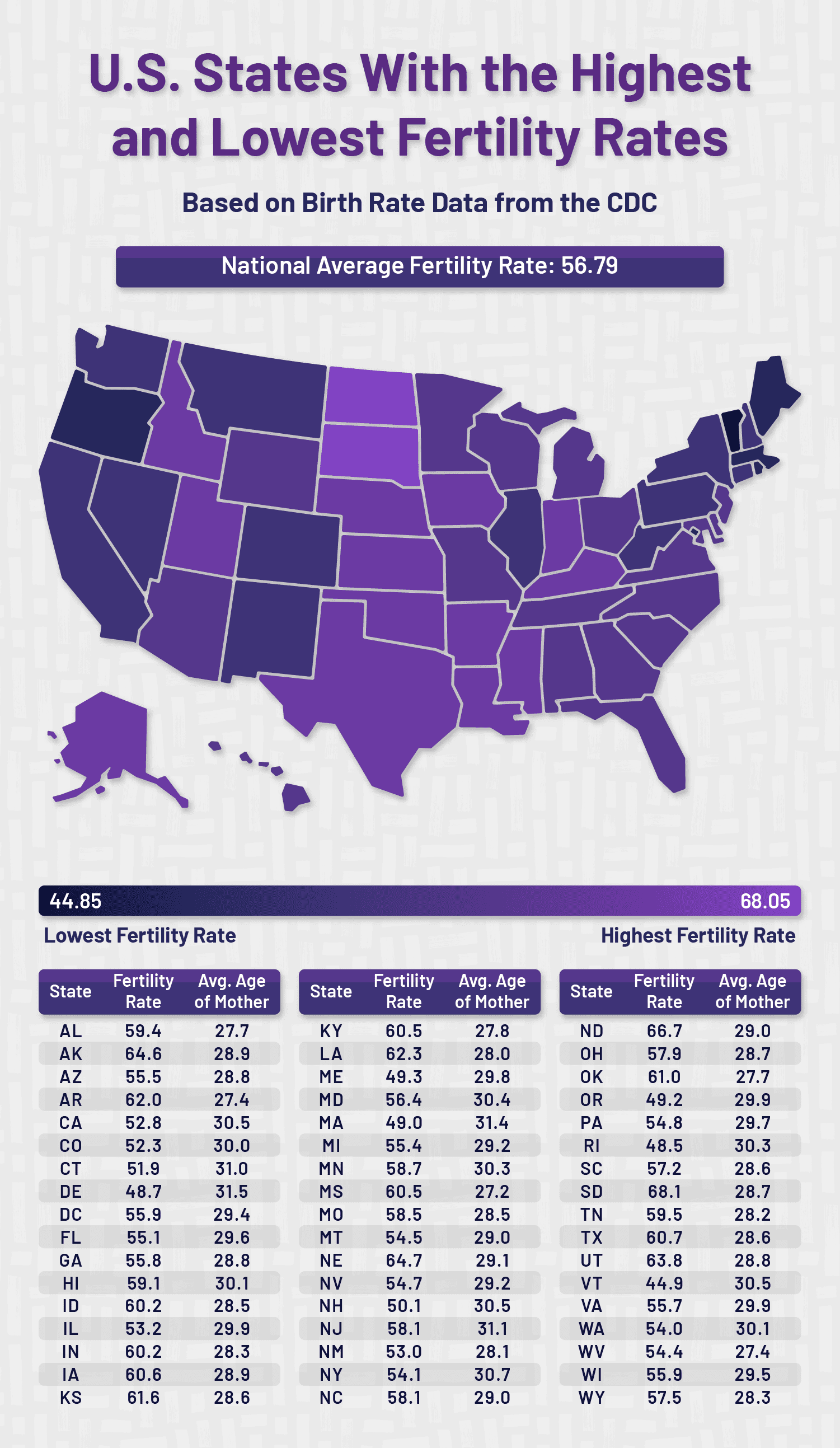 Fertility rate measures the average number of children born to women of childbearing age – between 15 and 44 years old in our data – within a population. To get a picture of what this looks like across the country today, we calculated fertility rates using the most updated CDC and U.S. Census data, along with the average age of mothers in each state.
Fertility rate calculation: (total births/female population 15-44 years old)*1,000
As more women become mothers for the first time later in life, average fertility rates are decreasing. Since 2007, the average age of new mothers has changed from about 27 years old in 2007 to just over 29 years old in 2021. The average fertility rate has declined from about 69 births per 1,000 women to 56.8 births in the same timeframe.
Let's take a closer look at how these figures have changed regionally.
South Dakota is the state with the highest fertility rate in the U.S. at 68.1 births per 1,000 women. That's a rate of 11.3 births higher than the national average of 56.8. That fertility rate would put South Dakota just under the average fertility rate in 2007, demonstrating how big of a decline we've seen over the past 14 years.
The second and third U.S. states with the highest fertility rates are North Dakota (66.7) and Nebraska (64.7). All of the top three states are below the national average when it comes to their average age of new mothers. States where the average mother's age is the youngest are Mississippi (27 years, 3 months), Arkansas (27 years, 4 months), and West Virginia (27 years, 5 months).
Focusing on states with the lowest fertility rates, Vermonters are having the fewest children across the country with a fertility rate of 44.9. That's 11.9 fewer births per 1,000 than the national average.
Rhode Island (48.5) and Washington, D.C. (48.7) round out the 3 states with the lowest fertility rates. Washington, D.C. also has the highest average mother's age in the study at 31 years, 1 month.
Which U.S. States Have Seen the Largest Declines in Fertility Rates?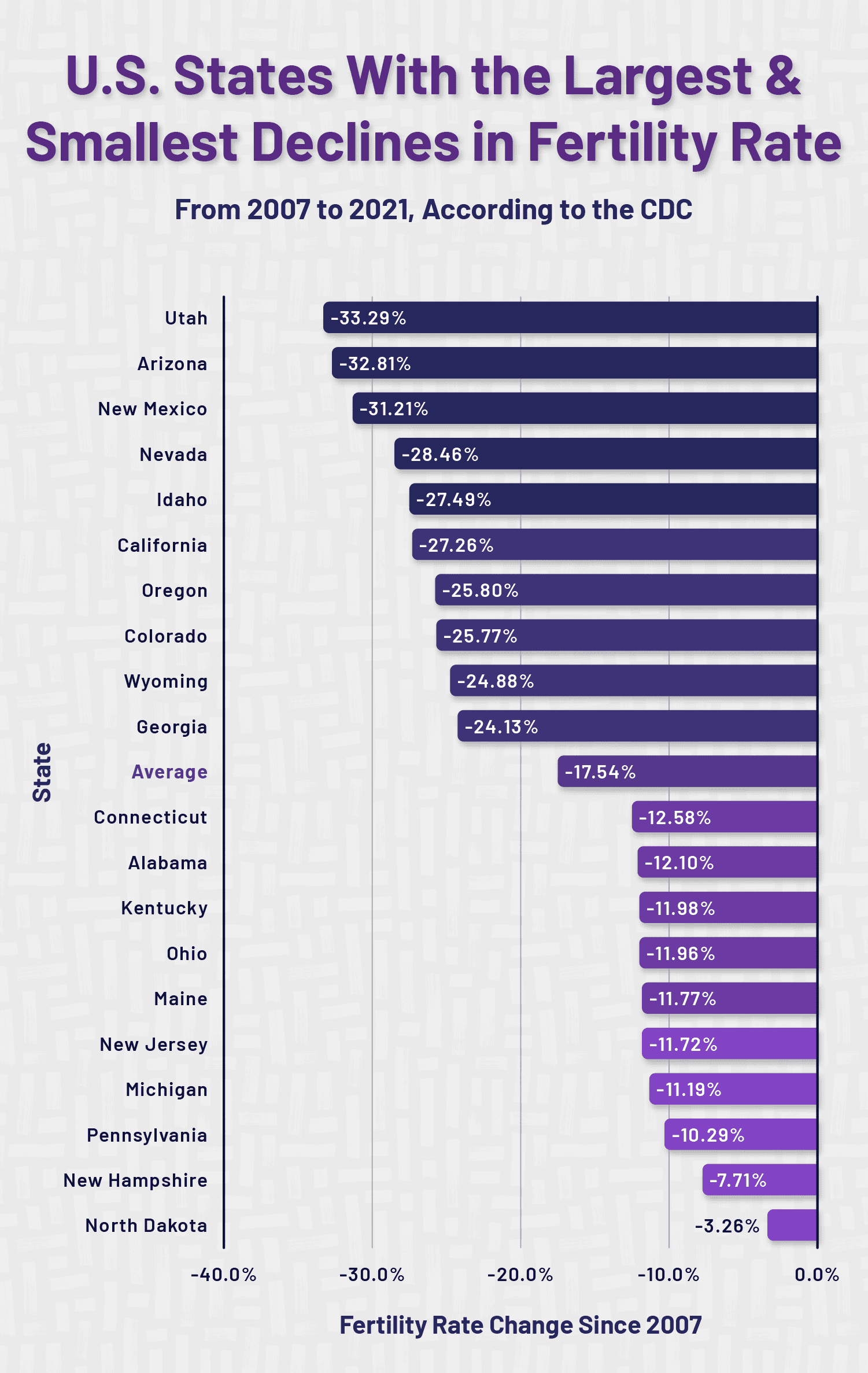 Fertility rates have seen a steady decline over the years nationwide. In fact, not a single state saw an increase since 2007. However, some states have seen larger dips than others.
For example, Utah's fertility rate went from 95.7 births per 1,000 women in 2007 to 63.8 in 2021. While Utah still has the fifth highest fertility rate in the country, the state experienced a 33% decrease in fertility rate. Other states that have seen stark declines in fertility rates are Arizona and New Mexico, both of which have seen decreases of more than 30% over the past 14 years.
North Dakota, on the other hand, only decreased its fertility rate by 3%, dropping from 69 in 2007 to 66.7 in 2021.
The only other state with a decrease of less than 10% since 2007 is New Hampshire, which has seen a decrease in the fertility rate of about 8% over the past 14 years. Pennsylvania has observed the third lowest decrease in fertility rate at about 10%.
Closing Thoughts
The potential financial strain of having children is often cited as a common reason why many Americans delay having them, considering how the cost of prenatal, inpatient, postnatal, and newborn care can stack up.
Health insurance can help defray the cost of keeping a growing family healthy. Assurance IQ can help you find a health insurance policy that best suits your needs as well as those of your family, no matter when children come into your life.
Methodology
To determine the states that have seen the largest declines in fertility rates over the years, we analyzed data from the CDC from 2007 to 2021.
Using this information, we were able to determine the states with the highest and lowest fertility rates, find out how the average mother's age varies state-to-state, and take a closer look at how those figures have changed over time. The calculation used to determine fertility rates is below.
Fertility Rate: (Total births/Female population 15-44 years old)*1,000
Additionally, we found the states with the largest differences in average mothers' ages since 2007.
You're just a few steps away from a personalized health insurance quote.
You're just a few steps away from a personalized health insurance quote.