Having a safety net is important no matter where you live; however, in some states, you might need a wider net. For many Americans, insurance is the safety net that safeguards their health, property, and other valuables. Some places have a higher risk factor than others, which is why the team at Assurance IQ wanted to find which U.S. states require the most protection from the unexpected. Read on to see where your home state landed on our list and just how much you should invest in protecting your belongings.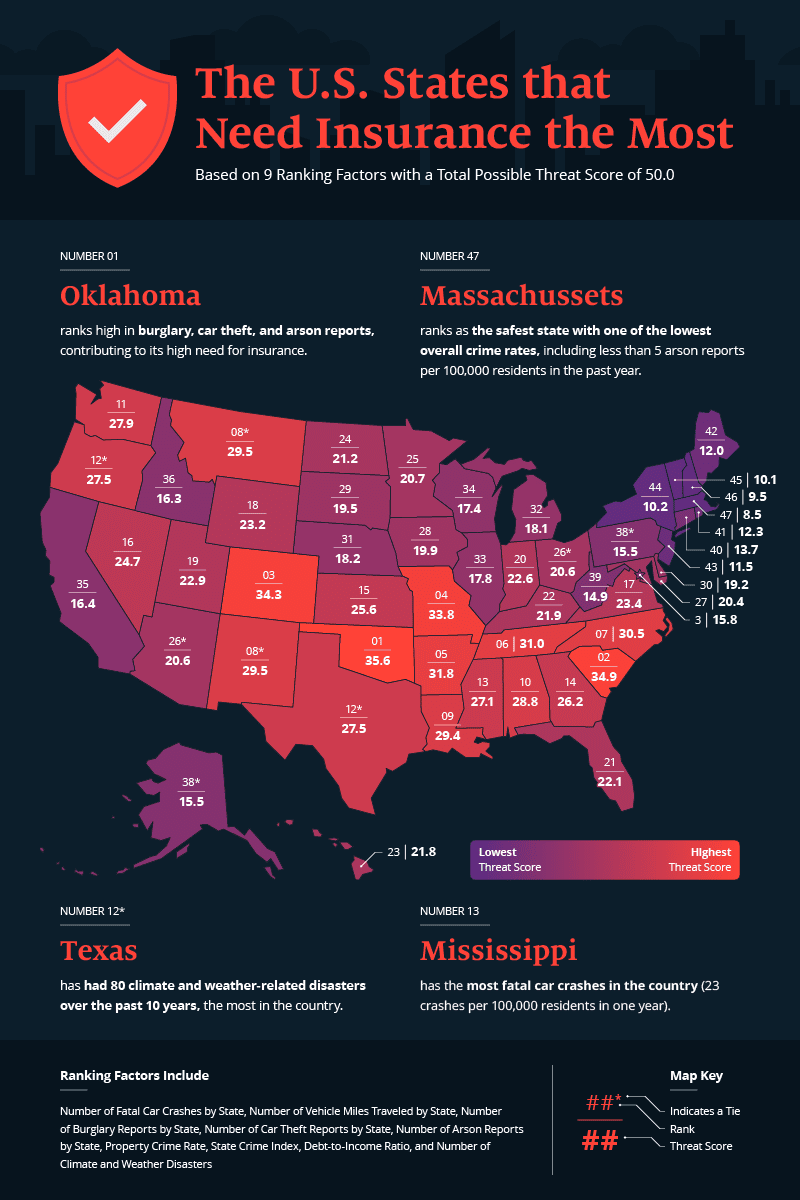 Many factors contribute to the need for better insurance policies. For example, states with more vehicles on the road are likely to have more car accidents. In places prone to natural disasters, protecting yourself in the event of a flood or similar catastrophic event is essential. Additionally, states that have high rates of burglary, car theft, and other crime also have a heightened need for a solid homeowners insurance plan.
While cities with sprawling populations and bigger highways are bound to have more traffic jams and fender benders, Mississippi leads the nation in fatal car crashes per 100,000 residents.
When it comes to dangerous weather conditions and natural disasters, Texas is one place where you'll want to protect your belongings with an effective homeowners insurance policy. Throughout the past decade, Texas has endured 80 climate and weather-related disasters – more than any other state in the country. In fact, the state's government advises residents to expect and prepare for hurricanes, floods, wildfires, and more every year.
For example, in the event of a hurricane, residents are advised to board up their windows, secure outdoor furniture, and ensure a water supply for sanitary purposes. The state's government also suggests keeping a disaster supply checklist to ensure that Texans can protect themselves from catastrophe.
Oklahoma has a high need for insurance based on numerous reports of burglaries, car theft, and arson. Oklahoma is a hot spot for car thieves, reporting over 350 stolen cars per 100,000 residents in 2021 alone. While many auto thefts are avoidable by locking your car doors and parking them in a garage, a car insurance policy with comprehensive coverage is essential in areas with an elevated crime risk. If a policyholder's car is stolen, comprehensive coverage can help them cover the cost of replacing their vehicle.
Massachusetts is the safest state overall with one of the lowest crime rates in the entire country. Massachusetts has fewer than 5 arson reports and only 137 burglaries per 100,000 residents; a staunch contrast when compared to Oklahoma's 21 arson reports and 520 burglaries per 100,000 residents annually.
Closing Thoughts
For many Americans, insurance provides an indispensable safety net in an emergency. In places with an elevated risk, it's essential to have a backup plan if the unexpected happens. Some states have a higher risk factor than others, meaning you should seek the appropriate coverage depending on those factors. If you live in a high-risk state, learn how Assurance IQ's agents can help you find the best home insurance or auto insurance policy to keep you covered.
Methodology
We assigned states with a score of 0-5 for each factor, with a score of 5 representing the most favorable conditions. Next, we determined each state's total score from the total of its individual factor scores, which were weighted according to their impact on the need for insurance. Individual factor scores were then added together to give each state a final score from 0-50. Higher scores indicated states had an elevated risk factor and need for insurance.
Ranking Factors: