While making the decision to acquire life insurance can be the right one for both the policyholder and their loved ones, the details of what it does and how it works elude many. Some people may not know the differences between policy types while others might be trying to figure out what other benefits purchasing a life insurance policy brings you.
To find out where the biggest knowledge gaps lie, and how people view life insurance altogether, we surveyed a population of 1,000 Americans (500 with and 500 without life insurance policies). We got insights into when people start to consider getting life insurance, why some might be hesitant to purchase a policy, and whether or not people fully understand what their specific policies offer them.
Key Findings
Nearly 1 in 4 Americans (23%) with life insurance wish they had purchased life insurance sooner.
92% of Americans with life insurance feel their life insurance policy is worth the cost.
55% of Americans without life insurance say they plan on getting it at some point in the future.
The biggest reason Americans without life insurance are hesitant to purchase it is the cost of the monthly premiums (45%). Other reasons they are hesitant include: they don't know enough about it (16%), they don't have possible beneficiaries (14%), and that it seems like a waste to purchase something that may never be used or will expire (10%).
What Do Americans Think About Life Insurance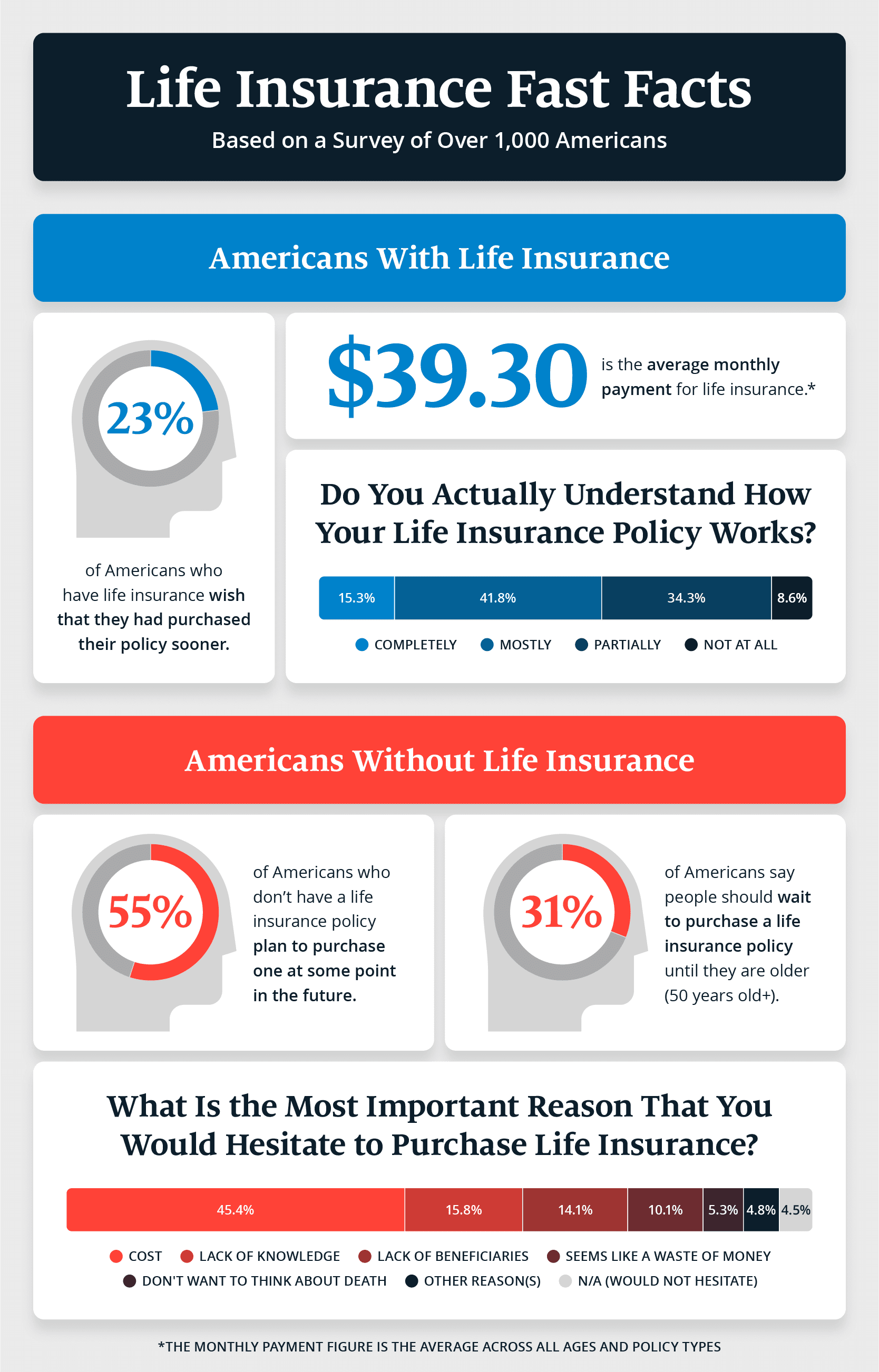 To begin our study, we wanted to learn a little more about how the perceptions of those with life insurance differed from those without it. First, the most common barrier Americans without life insurance cite is cost (45%). While $39.30 is the average payment that Americans in our study make per month for their life insurance policy, that number will vary depending on factors like the type of life insurance you choose, age, health status, coverage amount, and whether any additional riders or endorsements are added to the policy.
Another reason Americans without life insurance are hesitant to purchase it is a lack of knowledge about policy options (16%). This doesn't stop all Americans, though, as only 15% of policyholders we surveyed say they completely understand their policy. One thing that could cause some confusion is the type of insurance they have, as 46% of policyholders said they didn't understand the difference between term life and permanent life insurance policy. Sometimes it's just nice to know you're covered in some capacity.
Despite these potential barriers, 55% of Americans without life insurance plan on purchasing it at some point in the future.
Knowledge of Life Insurance: Those With vs. Those Without It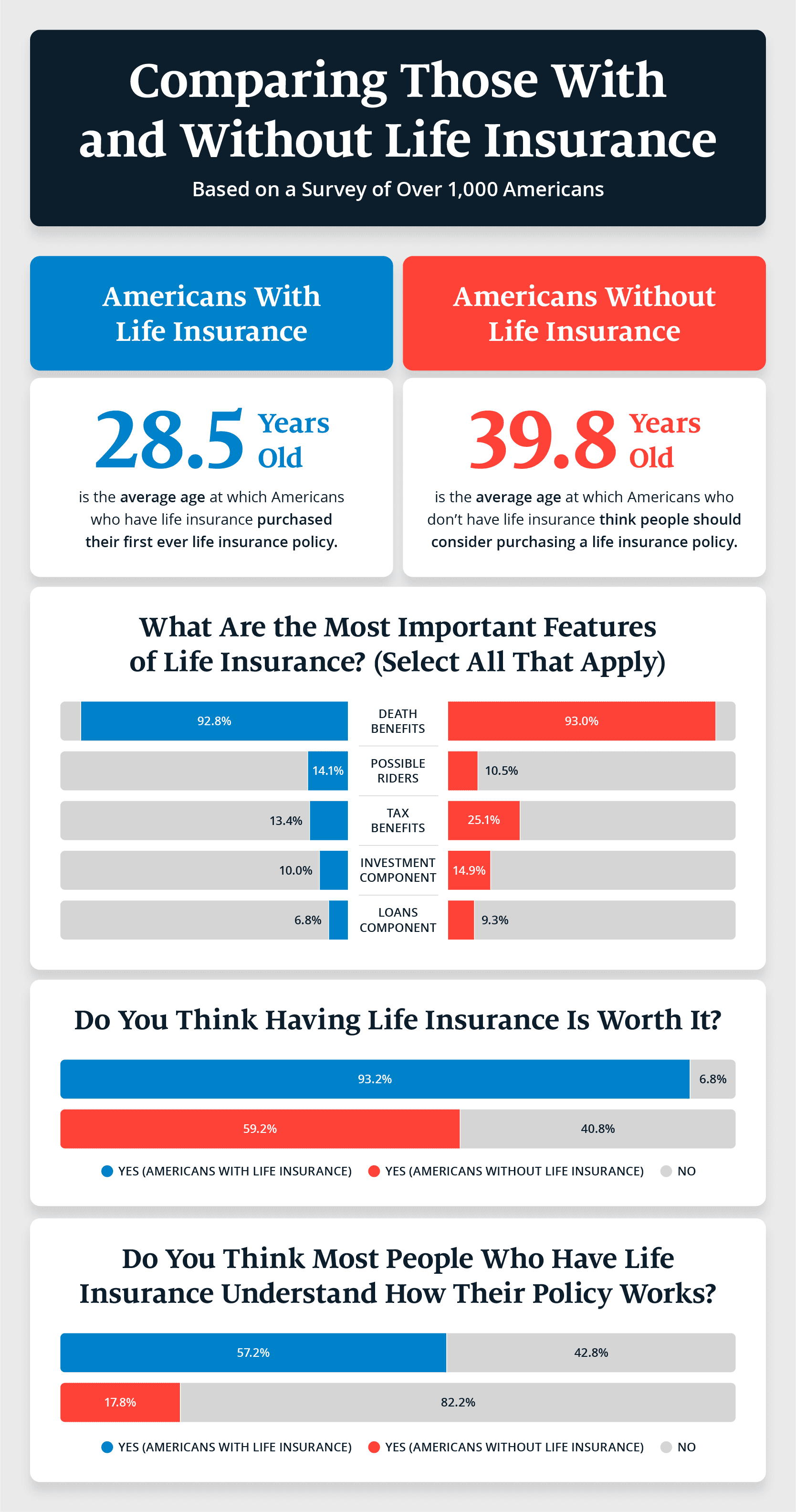 One of the biggest misconceptions about life insurance is that you need to be older to get the most out of it. The average age people without life insurance say you should start to consider purchasing a policy is nearly 40 years old. While that isn't particularly old, it's over a decade older than the average age our policyholder population was when they purchased their first policy.
Another commonly held belief is that life insurance policies aren't worth the cost. 40% of Americans without life insurance would agree. However, given the living benefits that many permanent policies offer (like illness riders and the ability to borrow against the policy's cash value), it should be no surprise that a whopping 93% of policyholders disagree with that sentiment.
One widely-held belief that may have more credence than others is that people don't exactly know how their life insurance policy works. 82% of Americans without life insurance think that people who have policies don't fully understand them. And they're not wrong. When asked if they knew how their life insurance policy works, only 57% of Americans said yes.
Closing Thoughts
Largely speaking, our study tells us that Americans think life insurance is worth the cost, it's never too soon to look into getting a policy, and that our knowledge about how it works could be better.
A lack of understanding is nothing to be ashamed of. Insurance policies can be dense, but reading up on how life insurance works is a great first step. You can learn about the living benefits some policies offer, and have peace of mind that even if something happens to you, your loved ones will be taken care of.
Methodology
To gather as much data as possible about Americans' knowledge and perception of life insurance, we conducted a survey of more than 1,000 Americans over a 3-day period in March 2023. Our survey population consisted of equal parts of Americans with and without life insurance. We asked questions about the most important features of life insurance, opinions on cost, and if Americans know how life insurance policies work.
Plan for your family's future. Get a life insurance quote today.
Plan for your family's future. Get a life insurance quote today.