Full underwriting is the traditional method insurers use to assess consumers' applications for various types of life insurance. Consumers provide detailed information about their health and lifestyle and typically need to undergo a life insurance medical exam during the process.
Insurers use full underwriting for many life insurance types, including term, whole, and universal life. Read on for details about how it works and what to expect during the process.
Table of Contents
What Is Medical Underwriting?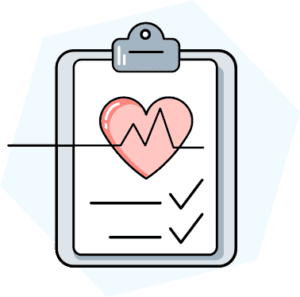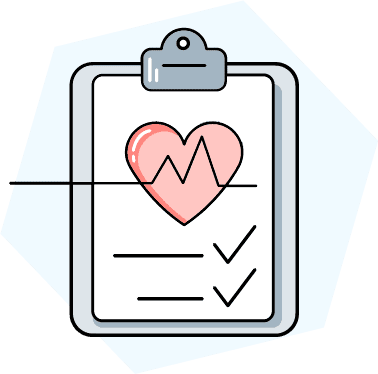 Medical underwriting is the process of evaluating a consumer's life insurance application based on health-related factors. Insurance companies use this information to decide whether to accept or decline an application, how much coverage to offer, and how much to charge for a policy.
In simple terms, medical underwriting means estimating a person's risk of early death. People who are in good health and deemed less likely to pass away typically face easier coverage approval and lower premiums. People who are in poor health can still get coverage, though they generally pay more for it.
What Underwriting Examines
During the medical underwriting process, insurance companies consider various health-related factors. Some common factors insurers consider include the following:
Age and gender: Both factors affect your life expectancy and likelihood of developing certain serious illnesses.
Personal health history: Insurers consider your pre-existing health conditions and typically order a medical exam for a snapshot of your current health.
Family medical history: Having close relatives with certain serious health issues may increase your risk of getting ill.
Lifestyle choices: Smoking cigarettes, drinking too much alcohol, and/or using drugs can affect your overall health.
Occupation and hobbies: Jobs and activities the insurer deems dangerous, such as construction or skydiving, affect its assessment of your health.
What to Expect In Underwriting
The underwriting process varies from insurer to insurer. Generally, consumers can expect to complete a detailed health questionnaire, participate in a brief phone interview, and undergo a life insurance medical exam.
The medical exam is similar to an annual physical exam. During the appointment, a healthcare professional takes basic readings, such as height, weight, and blood pressure, and collects blood and urine samples. The entire process takes around 30 minutes.
Next, the insurance company analyzes the information it collects to make a decision. Consumers can expect to hear back in anywhere from two to 8 weeks.
Types of Life Insurance That Use Full Underwriting
Full underwriting is the traditional method insurance companies use to process applications, and it's still widely used in the industry. Consumers who apply for the following types of life insurance policies can expect to go through full underwriting:
Term life insurance: A temporary policy that provides coverage for a predetermined number of years, typically between 10 and 30.
Whole life insurance: A type of permanent life insurance that offers life-long coverage and a cash value account.
Universal life insurance: A type of permanent life insurance that gives consumers the flexibility to adjust their premiums or death benefit if their needs change.
Variable life insurance: A form of permanent life insurance that gives policyholders the option to invest their cash value.
Simplified and Guaranteed Issue Life Insurance vs. Fully Underwritten Life Insurance
Fully underwritten life insurance is not the only option available to consumers. Life insurance companies offer two other types of underwriting: simplified issue and guaranteed issue.
Simplified issue life insurance uses a limited underwriting process. Applicants answer a few questions about their health and lifestyle but do not need to take a medical exam. Simplified issue policies appeal to people who are in poor health or want immediate coverage. However, they tend to have lower death benefits and higher premiums than traditional policies.
Guaranteed issue life insurance does not require medical underwriting. It's often marketed as final expense insurance, with a small death benefit ranging from around $5,000 to $25,000. Guaranteed issue policies appeal to people with serious health issues who are not eligible for any other coverage options.
Should You Consider Fully Underwritten Life Insurance?
Pros
Potential premium savings
Higher coverage limits
Varied plan choices
Cons
Lengthy application process
Requires a medical exam
Approval not guaranteed
Fully underwritten policies are a good choice for some consumers, including those in good health and who do not mind taking a medical exam. To decide if full underwriting makes sense for you, consider the potential advantages and disadvantages of the process.
Advantages
Potential premium savings: If you're in good or excellent health, going through the full underwriting process will likely result in lower monthly premiums.
Higher coverage limits: Fully underwritten policies offer higher maximum death benefits than other types, which allows consumers to buy the amount they need.
Varied plan choices: Consumers who are willing to take a medical exam have access to a broader range of insurers, policy types, and rider options.
Disadvantages
Lengthy application process: From start to finish, the traditional underwriting process takes as long as several weeks.
Requires a medical exam: Some people do not want to share private medical information with an insurance company, while others simply do not have time to take an exam.
Approval not guaranteed: Applicants who have major health conditions or a high-risk lifestyle may be denied coverage.
Tips For Going Through the Underwriting Process
Applying for a fully underwritten life insurance policy is a nerve-wracking experience for some people. Here are some things you can do to ensure the process goes as smoothly as possible.
Work on your health: Make lifestyle changes to improve your overall health, such as exercising regularly and eating a balanced diet. If you have chronic health conditions, work with your doctor to get them under control.
Eliminate risky habits: During the underwriting process, insurers ask about substance use. If you're a smoker, try quitting before applying for coverage.
Gather necessary information: Be prepared to provide details about your medical history, including pre-existing conditions and past surgeries. Make a list of your current medications, including dosages.
Putting It All Together
Insurers use full underwriting for many policies, including term and whole life. Consumers who apply for a fully underwritten life insurance policy can expect to answer a detailed health questionnaire and submit to a medical exam. While the process can be time-consuming, it offers potential benefits for consumers, including lower premiums and higher coverage amounts.
Full underwriting is not right for everyone, and some consumers may prefer no-exam life insurance for one reason or another. For help finding a policy that meets your needs, talk to a trusted life insurance agent.
Frequently Asked Questions
Plan for your family's future. Get a life insurance quote today.
Plan for your family's future. Get a life insurance quote today.