Does Medicare Cover Medical Marijuana?
Medicare does not cover medical marijuana at present. The Food and Drug Administration (FDA), which regulates medications in the United States, doesn't recognize marijuana as a valid treatment for medical conditions. While some states are legalizing the drug, marijuana is still illegal at the federal level.
With that said, medical marijuana is increasingly becoming available—37 states and Washington D.C. have laws broadly legalizing medical marijuana, and 12 other states have more limited laws.
Table of Contents
What is Medical Marijuana?
Medical marijuana typically refers to marijuana used to treat serious medical conditions as prescribed by a doctor. Marijuana is a psychoactive drug made from the cannabis plant. The two main active components are tetrahydrocannabinol (THC) and cannabidiol (CBD).
Typically, patients must get usage certified by an approved doctor. The patient receives an ID card or is put on a list of approved buyers. In some states, buyers must also register and undergo a background check.
Some doctors and patients prefer medical marijuana for chronic pain relief for the following reasons:
There are no reported fatal overdoses from medical marijuana.
The drug can help patients who don't respond to other prescription medications, or who can't use NSAIDs (aspirin, ibuprofen, and others) for pain.
Medical marijuana is less addictive than prescription opioids, and research indicates that opioid prescriptions fell in states after medical marijuana was legalized.
What Does Medical Marijuana Treat?
Medical marijuana can reduce pain, nausea, and vomiting. It may help a person feel like eating food when dealing with a chronic condition, and may also reduce eye pressure. For these reasons, it may help people experiencing symptoms and conditions such as:
Severe nausea, chronic pain, and weight loss
Seizures, epilepsy, and severe muscle spasms
Cancer
HIV/AIDS
Multiple sclerosis
Crohn's disease
Epilepsy
Inflammatory bowel disease
Various mental health conditions, such as PTSD and schizophrenia
Some states allow medical marijuana for a more expansive list of conditions, which could include:
Parkinson's disease
Autism
Sickle cell anemia
Post-traumatic stress disorder
Inflammatory bowel disease
Terminal illness
Medical marijuana is FDA approved to treat two severe forms of epilepsy, Dravet and Lennox-Gastaut Syndrome.
The Difference Between Legal and Recreational Marijuana
| | Recreational | Medical |
| --- | --- | --- |
| Prescription required | No  | Yes |
| Availability | Anyone 21 and over | Potentially under age 21 but depends on the state, medical prequalification, and caregiver approval |
| Contains higher levels of | THC  | CBD |
| Form | Variety | Only some forms may be legally available |
| Lab testing | Limited | Potentially more thorough |
Generally, recreational marijuana contains more of the active ingredient THC which provides the typical "high." No prescription is necessary, and adults 21 and over with photo ID can buy recreational marijuana in a wide variety of state-licensed shops. Recreational marijuana can be vaped, smoked, eaten, or even consumed in a beverage. Availability depends on the state.
Medical marijuana is typically higher in CBD and can only be purchased in licensed dispensaries. However, some products higher in THC may be approved. State law may regulate both the process for legal purchase and consumption. Depending upon the state, medical marijuana may be required meet more standards, as well as be tested for prohibited pesticides, heavy metals, and toxic fungi.
Will Medicare Cover Cannabinoid-Based Medications?
Cannabis plants contain more than 100 cannabinoids or substances. Three FDA-approved prescriptions and drugs based on synthetic or purified versions of these marijuana compounds may be covered by Medicare or insurance:
Nabione (Cesamet) helps control nausea and vomiting for chemotherapy patients. This is sometimes covered by Medicare.
Dronabinol (Marinol) also offers nausea and vomiting relief, along with treating appetite and weight loss. Medicare usually covers this drug.
Epidiolex (cannabidiol) treats seizures associated with two rare forms of epilepsy and a rare genetic disorder. Medicare usually covers this drug.
These medications are not smokable.
How Can I Legally Access Medical Marijuana?
Your steps to legally accessing medical marijuana depends on where you live. Each U.S. state has a unique approach for defining medical marijuana, how patients qualify, and where you can legally purchase it. In general, you can expect this process:
Certification: To get the certification, you may need proof of state residency and your doctor's authorization of your need for the medication.
Registration: Typically, you register online with a statewide database, then receive a medical marijuana ID card that allows you to shop at licensed marijuana dispensaries.
Buy medical marijuana: Shop for and purchase medical marijuana at a state-licensed dispensary.
Minors and applicants who are mentally or physically incapacitated will have more hoops to jump through—such as more than one physician certification or additional paperwork from parents, caregivers, or guardians.
Notably, other states may not recognize your medical marijuana card. It may only be valid and recognized in the state you obtained it.
Medical Marijuana Access By State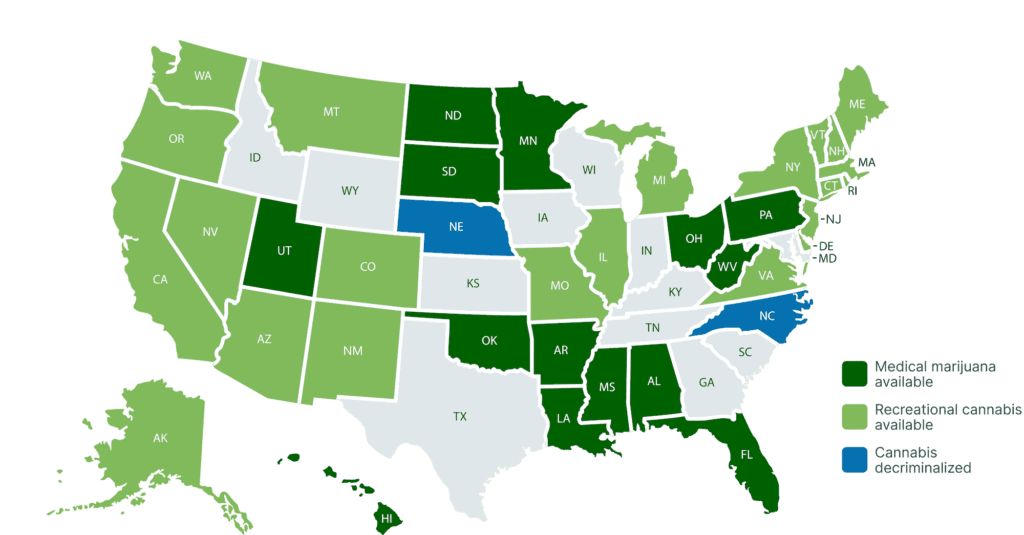 | State | Marijuana Accessibility |
| --- | --- |
| Alabama | Medical marijuana available |
| Alaska | Recreational cannabis available |
| Arizona | Recreational cannabis available |
| Arkansas | Medical marijuana available |
| California | Recreational cannabis available |
| Colorado | Recreational cannabis available |
| Connecticut | Recreational cannabis available |
| Delaware | Recreational cannabis available |
| Florida | Medical marijuana available |
| Hawaii | Medical marijuana available |
| Illinois | Recreational cannabis available |
| Louisiana | Medical marijuana available |
| Maine | Recreational cannabis available |
| Massachusetts | Recreational cannabis available |
| Michigan | Recreational cannabis available |
| Minnesota | Medical marijuana available |
| Mississippi | Medical marijuana available |
| Missouri | Recreational cannabis available |
| Montana | Recreational cannabis available |
| Nebraska | Cannabis decriminalized |
| Nevada | Recreational cannabis available |
| New Hampshire | Recreational cannabis available |
| New Jersey | Recreational cannabis available |
| New Mexico | Recreational cannabis available |
| New York | Recreational cannabis available |
| North Carolina | Cannabis decriminalized |
| North Dakota | Medical marijuana available |
| Ohio | Medical marijuana available |
| Oklahoma | Medical marijuana available |
| Oregon | Recreational cannabis available |
| Pennsylvania | Medical marijuana available |
| Rhode Island | Recreational cannabis available |
| South Dakota | Medical marijuana available |
| Utah | Medical marijuana available |
| Vermont | Recreational cannabis available |
| Virginia | Recreational cannabis available |
| Washington | Recreational cannabis available |
| West Virginia | Medical marijuana available |
Medical marijuana available: California was the first state to legalize medical marijuana in 1996. Today, marijuana in some form is legal in most U.S. states. Laws change, and marijuana access is rapidly evolving, so ensure you're following your state's rules around obtaining and using medical marijuana.
Recreational cannabis available: In these states, you don't necessarily need a prescription to use marijuana legally.
Cannabis decriminalized: In some states, cannabis may not be legal for recreational use, but it has been decriminalized. This means a person may be able to have a certain amount without violating the law.
In some of the above states, such as Washington, adults can use cannabis but can't legally grow it at home. Ensure you understand your state's laws before growing, buying, selling, using, or transporting medical or regular marijuana.
Who Prescribes Medical Marijuana?
In some states, any licensed medical doctor (MD), doctor of osteopathy (DO), or nurse practitioner (NP) in good standing can prescribe medical marijuana. This could include your personal doctor. In other states, only certain doctors with certifications can approve your use. These doctors have completed specialized training, registration, and licensing.
In either case, the doctor will certify you have an eligible condition and that medical marijuana will be beneficial.
Is Medical Marijuana Expensive?
To use medical marijuana, you will likely need to pay for the following:
A doctor's visit or office fee for medical marijuana approval
Background checks for yourself or caregivers
A state-required card
The medical marijuana itself
Taxes on the marijuana
Fees for state-required marijuana cards vary between around $50-$200. However, if you receive certain aid programs such as Medicaid or SNAP, you could qualify for a fee-free card and background check. Some states may offer funds for patients to use in dispensaries. Taxes vary by location.
What Kind of Marijuana Treatments are Available?
Patients can take medical marijuana in the form of:
Pills
Oils, tinctures, and liquid extracts
Topical treatments such as lotions, ointments, and patches
Smoking, vaporization, or nebulization
Suppository
States typically outline which types of medical marijuana are allowed. For example, in some states, it can only be swallowed and never smoked. The availability of patches, oils, tinctures, lotions, edibles, and other methods vary by location.
Each kind of treatment offers pros and cons you should review with your physician, depending on your health condition and state law.
The Difference Between THC and CBD
THC is marijuana's active ingredient that creates the mental and emotional "high," or the impact on a person's mental state. THC is a cannabinoid that can help reduce nausea and increase appetite for those with cancer, HIV/AIDS, and other conditions.
CBD does not provide a mental high or impact the patient's mental state. It's more associated with pain relief and body relaxation. In prescription form, CBD can be used to treat epileptic seizures. More research is ongoing regarding the use of CBD to treat opioid addiction and other conditions.
Research indicates that THC may create anxiety, while CBD can reduce anxiety in some people. There are other major differences between the two compounds, and it's important to discuss CBD vs THC with your healthcare provider.
Why Doesn't Medicare Cover Marijuana?
Medicare does not cover marijuana because it's federally illegal and the FDA only approve the plant for very specific conditions. Medicare Part D, or prescription drug plans, typically only cover medications the FDA approves and considers safe to consume. For the same reason, private health insurance plans do not cover medical marijuana.
Marijuana and Your Health
If you're thinking about using marijuana, consider the following information before heading to the local dispensary.
Should I Tell My Doctor I'm Using Marijuana?
It is essential to tell your doctor if you're using marijuana. THC and CBD can have negative affects when combined with certain medications.
In some situations, using medical marijuana is a judgment call—and it's best to get your doctor's input. People with severe or acute liver, kidney, cardiovascular, or immunological disease will want to consult with their physician before using marijuana.
Additionally, never use cannabis products to avoid or postpone visiting the doctor about an existing medical problem—for example, to ignore acute or chronic pain.
Health Considerations
Medical marijuana isn't recommended for some people. Use can lead to lung irritation, addiction, or risk-taking behaviors such as dangerous driving. Additional side effects can include:
Drowsiness or dizziness
A fast or irregular heartbeat
Short-term memory loss or confusion
Difficulty with concentration
Slow reaction times
Irritation or agitation
Diarrhea or other gastrointestinal distress
Psychosis in high doses
CBD and THC can also change how your liver breaks down your prescriptions. For example, some studies show that marijuana can interfere with certain medications used to treat blood clots, epilepsy, and respiratory diseases.
Cannabis can also increase the depressant effect on the central nervous system when combined with alcohol, barbiturates, and benzodiazepines. This can lead to extreme drowsiness and other side effects.
Additionally, it's not recommended for patients with severe heart disease as it increases heart rate and alters blood pressure.
Is Marijuana Right For Me?
Talk to your doctor to see if medical marijuana is the right treatment for you. It may be a good fit if you:
Live in a state where you can qualify for a prescription
Are diagnosed with a condition or symptom shown to respond positively to medical marijuana use
Have no contraindications or other drug interactions that could lead to potential health problems
Are able to have a positive, open dialogue about medical marijuana with your physician
Can afford the medication out of pocket
How Should I Use Marijuana?
Not all kinds of medical marijuana are suitable for everyone, so it's best to speak with your doctor about your options. As with alcohol, tolerance levels can be very low for those using marijuana for the first time or in years, so you should start slow.
In addition, effects can differ based on cannabinoid amounts and mode of delivery. Different cannabis products contain different levels of cannabinoids and can make effects hard to control or predict. For some people, marijuana is more effectively delivered by smoking and vaporizing versus in pill form. But, edibles can be easier for some patients to digest and easy to access in certain states.
Use your doctor's prescribing dose as guidance. Ensure you store medical marijuana in a safe place where children and pets can't access it. And most importantly, talk to your physician if you have any questions or concerns.
Note: This article is for informational purposes only and is not medical or legal advice. Speak with your physician before beginning or stopping any medication, whether over-the-counter or prescription-based.
You're just a few steps away from seeing your Medicare plan options.
You're just a few steps away from seeing your Medicare plan options.