Telemedicine has rapidly gained popularity among Americans, transforming how healthcare services are accessed and delivered. As individuals seek convenient and cost-effective alternatives to traditional in-person medical care, telemedicine has emerged as a promising solution.
To further understand the perceptions of telemedicine among Americans, we surveyed people across the country and asked them about their expectations, concerns, and attitudes toward this innovative approach. Read on to see what we found.
Assurance helps people navigate the complexities of finding and choosing insurance with personalized recommendations and guidance. We make it easy for people to access insurance that meets their needs, such as the need for telemedicine.
Key Findings
About 3 in 5 Americans (62%) say telemedicine makes them more likely to seek out care they would normally put off.
Before trying telemedicine, more than a quarter (27%) of respondents claimed to have a negative perception of it. However, after experiencing it, 90% would recommend it to someone who has never tried it.
On average, Gen Zers enjoy using telemedicine the least of any generation, and Millennials prefer to use it the most.
About 30% of Americans claim to save money using telemedicine instead of in-person appointments.
Less than half of Americans (44%) think telemedicine appointments are less effective than in-person visits.
The Impact & Perception of Telemedicine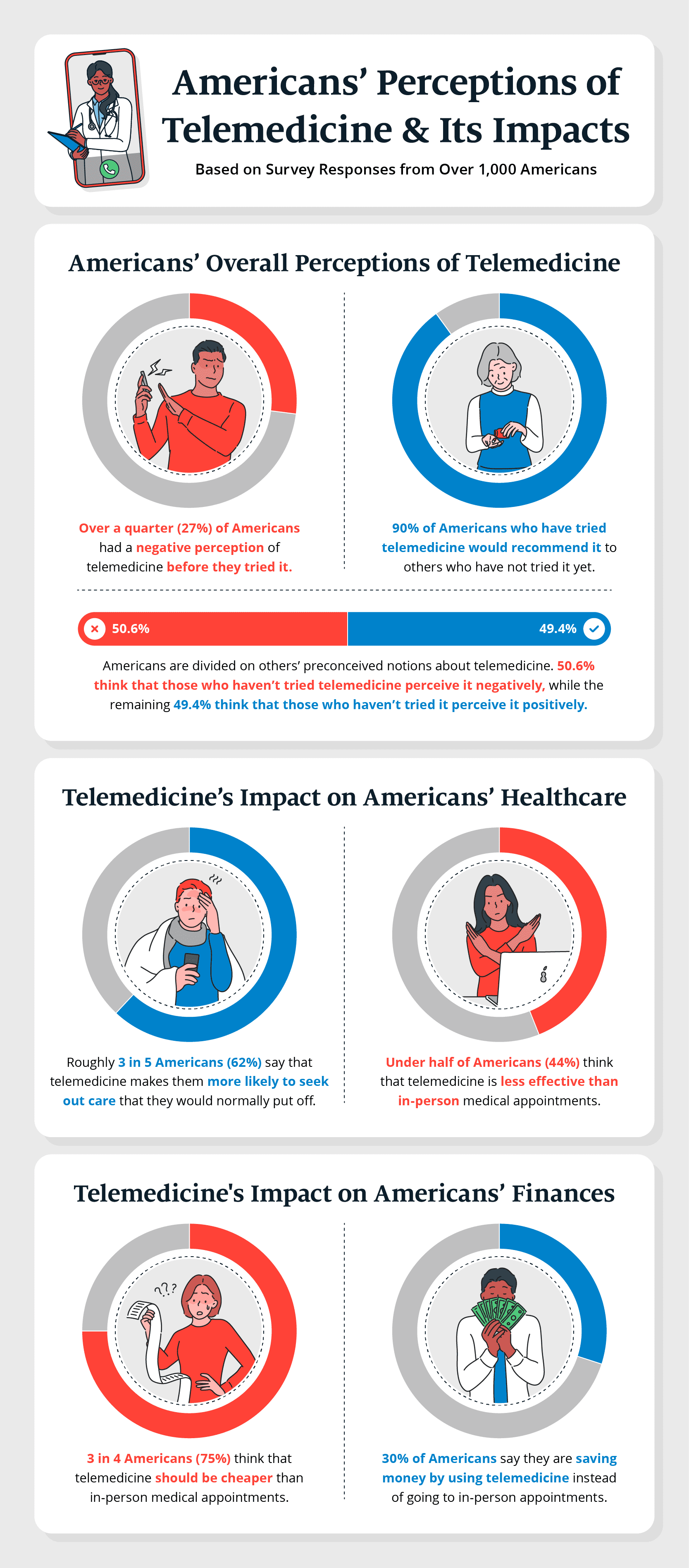 One notable aspect of telemedicine perception among Americans is the expectation of cost savings. We found that many individuals believe that telemedicine should cost less than traditional in-person doctor's office visits.
On average, Americans believe telemedicine should cost around 25% less than an in-person visit, reflecting a widespread belief that it should be a more affordable alternative.
Similarly, nearly 75% of respondents believe telemedicine should be more financially accessible than in-person medical services.
This perception also aligns with our data showing that an impressive 19% of respondents without health insurance rely solely on telemedicine for their healthcare needs, while only 2% of those with health insurance do the same.
The COVID-19 pandemic served as a catalyst for the increased popularity of telemedicine in the U.S., primarily due to its convenience and accessibility. Individuals who started using telemedicine during the pandemic reported finding it more convenient than those who had used it before, highlighting the shifting perception of telemedicine as a viable and user-friendly option for medical care.
When examining the generational divide in telemedicine perception, interesting patterns emerge. The oldest and youngest generations, Gen Z and Baby Boomers are generally less likely to recommend telemedicine to someone who has never tried it. Specifically, 14% of Gen Z and Baby Boomers expressed hesitancy, while Millennials and Gen Xers were comparatively more open, with only 6% sharing the same reservations.
Among the different generations, Baby Boomers exhibited the most negative perception of telemedicine before trying it with 31% of Baby Boomers expressing reservations or skepticism. Following closely, 27% of Gen Zers harbored similar concerns, while Millennials and Gen Xers had a slightly lower rate of 25%.
Closing Thoughts
The transformative potential of telemedicine in healthcare is undeniable. Moving forward, telemedicine will play a significant role in how Americans perceive and access healthcare services. It will continue to shape the industry, providing opportunities for cost savings, convenience, and improved healthcare experiences.
At Assurance IQ, we understand the importance of having access to care where and when you need it. That's why we created a new and better way to get health insurance into the hands of those who want and need it. We meet people where they are, help remove complexities and provide guided recommendations for each customer.
Methodology
In June of 2023, we surveyed 1,007 Americans who have ever consulted with a healthcare provider using telemedicine to gather insights on their experience and perception of telemedicine. The survey focused on topics related to telemedicine, such as convenience, effectiveness, and affordability, to name a few.
You're just a few steps away from a personalized health insurance quote.
You're just a few steps away from a personalized health insurance quote.