An inevitable part of our daily commute is the dreaded rush hour traffic jam. While unavoidable, there are a few things more frustrating. This frustration in traffic can lead to a greater risk of getting into a collision, which in turn can lead to higher auto insurance rates. In addition, many insurers factor in how long you commute and how often you do it. 
To gain a better understanding of how drivers deal with traffic, we surveyed drivers from every state. Do they leave early to beat traffic conditions? Does traffic frustration get the best of them? Are they constantly trying to move around it or staying patient? As such, we learned how Americans navigate their daily driving challenges.
Table of Contents
How Every State Reacts To Traffic
Use the interactive map above to explore how long it typically takes for drivers in your state to get annoyed while sitting in traffic, whether they prefer to sit it out or find alternative routes, and what percentage are prone to weaving in and out of lanes during gridlock.
America's Traffic Habits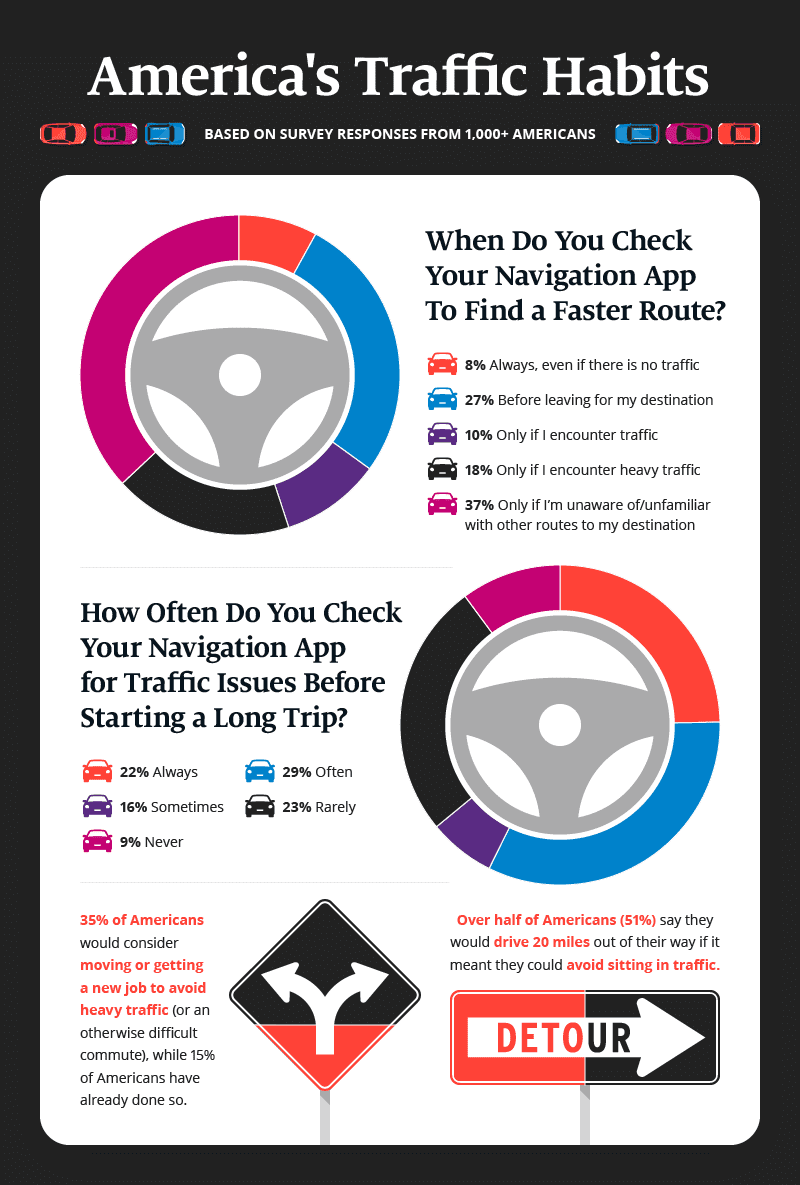 A staggering 75% of Americans say they are more likely to alter their departure time — either leaving earlier or later than initially planned — to sidestep the worst of traffic.
More often than not, technology provides a much-needed lifeline to escape snarling traffic. When asked how they navigate these situations, 37% of Americans resort to a navigation app if unfamiliar with alternative routes.
About 18% rely exclusively on navigation apps during heavy traffic, and 10% switch to an app once they hit a jam. Before even setting out, 27% utilize a navigation app to plan their journey, while 8% rely on these tools daily.
Before embarking on longer trips, drivers show varying levels of preparedness. About 29% usually take the time to check for traffic snags, while 23% do so less frequently.
On the other hand, 22% always make it a point to check, and 16% are on the fence, doing so about half the time. Interestingly, 9% throw caution to the wind and never check for traffic.
Regardless, the stress of a bad commute can take a toll, so much so that 35% of survey respondents would consider making significant life changes to avoid it.
Many drivers would drive 20 miles out of their way to avoid sitting in traffic altogether. Over half of Americans (51%) say they would take the long way if it meant not sitting in traffic for an extended period of time. The allure of a free-flowing road, it appears, often outweighs the inconvenience of a longer route.
Whether it's moving to a new home closer to work or even changing jobs altogether, it's clear that traffic woes weigh heavily on Americans' lifestyle choices.
America Behind The Wheel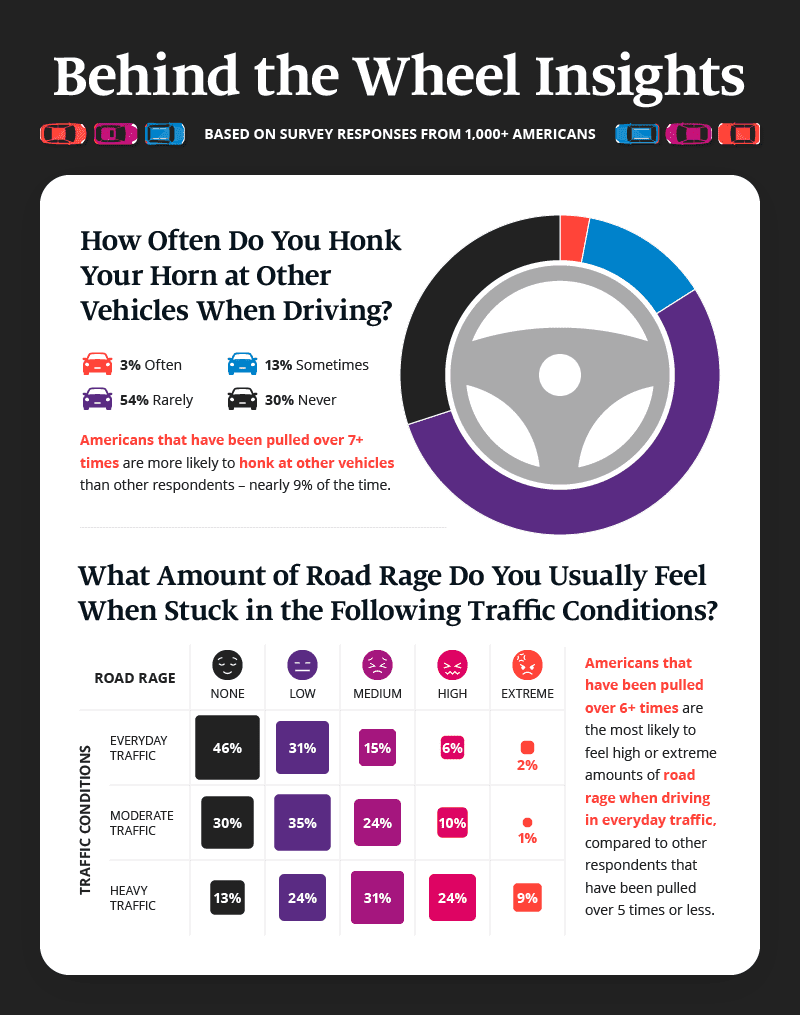 American drivers are known for their love of the open road, but how do they behave when that road is congested with traffic? Our survey explored their driving habits and attitudes in various traffic situations.
Perhaps surprisingly, many drivers are patient behind the wheel — 54% report rarely honking at other vehicles amidst traffic. On the flip side, 13% acknowledge occasional horn use, and a minimal 3% admit to frequent honking.
A remarkable 30% of drivers are entirely non-confrontational, choosing never to resort to honking at fellow motorists.
Interestingly, those who have been pulled over 7 or more times are the largest group to report frequent honking. Perhaps not so coincidentally, respondents with 6 or more driving-related incidents in their lifetime also reported the highest levels of road rage during daily traffic.
Speaking of road rage, motorists generally keep their cool to some extent while driving. When asked to rank their road rage levels on a scale from 1 to 5 — with 1 being no road rage and 5 being the worst — the majority of respondents felt a level 3 during heavy traffic.
During moderate traffic, the consensus dropped to a level 2, and in daily or steady traffic conditions, level 1 was most commonly reported.
Closing Thoughts
From altering departure times to using navigation apps, drivers use a variety of strategies to navigate their daily commutes and avoid the worst of traffic.
However, in situations where traffic is unavoidable, they generally maintain a moderate level of patience amidst the congestion. On the other hand, some are willing to move homes or switch jobs to improve their commuting experience.
Making your commute smoother and safer can have a positive impact on your auto insurance rates. Assurance IQ can help you find competitive auto rates to keep you, your car, and your passengers protected during all of your road commutes.
Methodology
To uncover American habits and sentiments when dealing with traffic, we surveyed 3,198 respondents across 44 states from July 12th to August 14th, 2023.
The study included a representative sample collected across states, age ranges, and gender. We did not include insights for Alaska, Montana, North Dakota, South Dakota, Vermont, and Wyoming due to the low pool of available survey respondents in these states.
Find an auto insurance policy that meets your needs.
Find an auto insurance policy that meets your needs.