If you've ever been to a city and wanted to explore what the downtown area has to offer, you typically have to factor in extra time and money for parking. Whether you're driving around to find the cheapest parking lot or searching for an open parking meter, parking can be a stressful and costly burden on any driver.
Fender benders and other accidents can occur where the parking spaces are tight or otherwise tricky to get into, making it crucial to have auto coverage you can trust. Whether you're planning a move to a big city or looking to travel more often, Assurance IQ can help you find a robust auto insurance policy that's right for you.
Furthermore, to help drivers nationwide determine the cost of parking their cars in every major city in the U.S., we took a deep dive into parking rates in 50 popular U.S. cities. Read on to find out which cities are the most and least expensive to park in around the country.
The Most and Least Expensive U.S. Cities To Park Your Car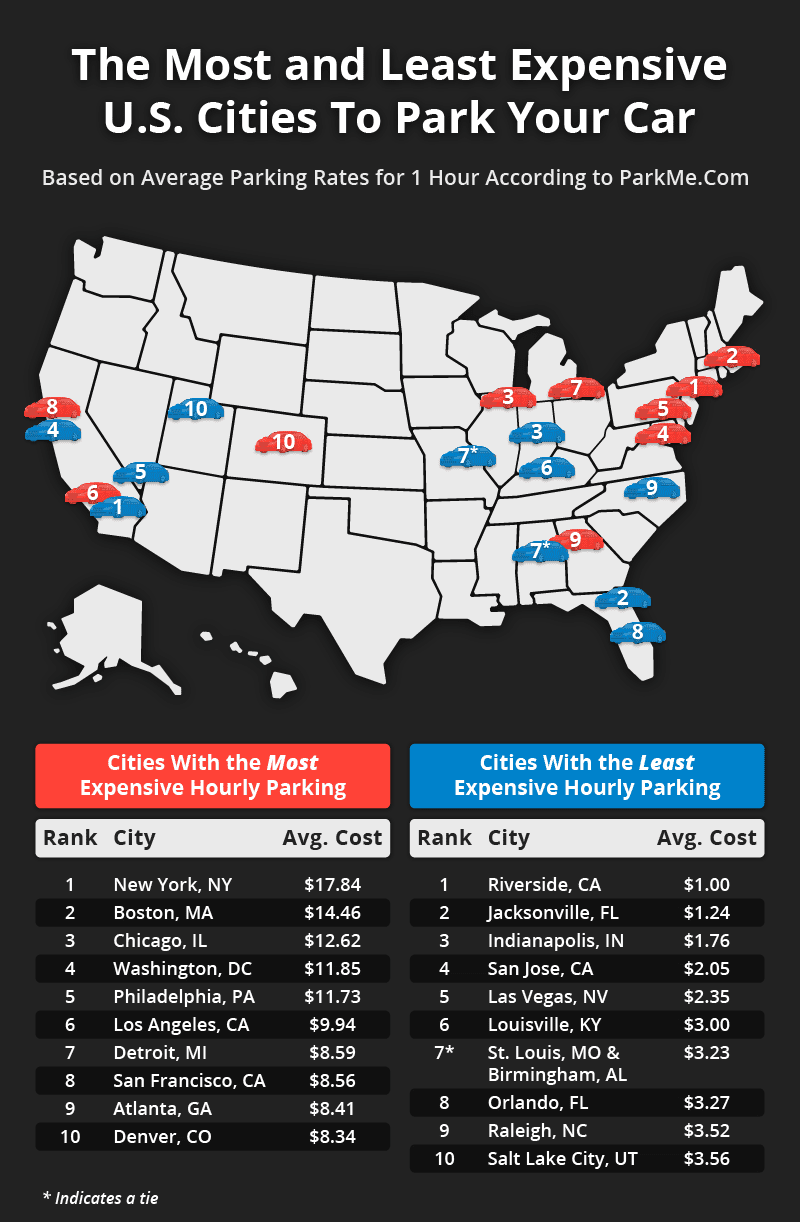 Navigating the bustling streets of a big city can be challenging enough without considering where you'll park your car. Hourly parking rates in garages and parking centers can quickly add up, turning a day in the city into a costly outing.
From the towering skyscrapers of New York to the sun-kissed boulevards of California, parking rates can vary widely, reflecting each city's demand and local economy.
In the heart of the nation's financial hub, parking in New York City comes at a premium, with an average hourly rate of $17.84. In a city where every minute counts, the price of parking is no exception.
On the other end of the spectrum, Riverside, CA, offers a surprising breath of fresh air for your wallet. With an average hourly rate of just $1.00, it's a city that welcomes drivers without the hefty parking price tag.
Whether you're a seasoned city navigator or just exploring urban landscapes, these figures offer a glimpse into what you might expect to pay as you journey across the country's diverse cities coast-to-coast.
The Most and Least Expensive U.S. Cities To Park Your Car Daily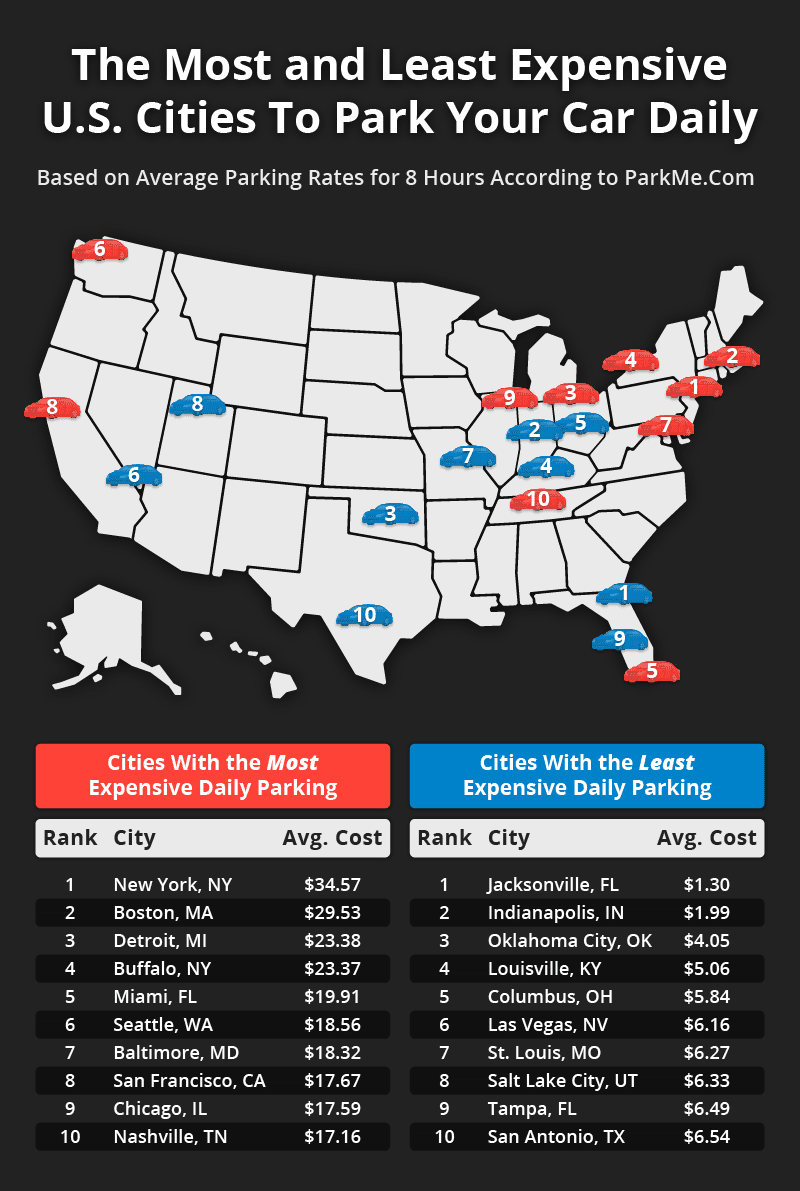 For many Americans, the daily commute involves not just battling traffic but also contending with the cost of parking downtown.
Whether you're a professional hustling to the heart of the city or someone who frequently enjoys the urban offerings, daily parking rates can weigh heavily on your wallet.
The difference between cities can be surprising, turning what seems like a mundane daily expense into a major consideration for city dwellers.
Once again, New York City tops the charts, setting the pace with an average daily parking rate of $34.57. In the city that never sleeps, neither does the expense of daily life, especially when it comes to parking.
On the other side of the spectrum, San Antonio stands as an oasis of affordability for daily commuters. With a rate of just $6.54 per day, it's a city whose parking decks appreciate the value of a hard-earned dollar, making daily commutes to work more accessible and less burdensome.
The Most Expensive U.S. Cities for Street Parking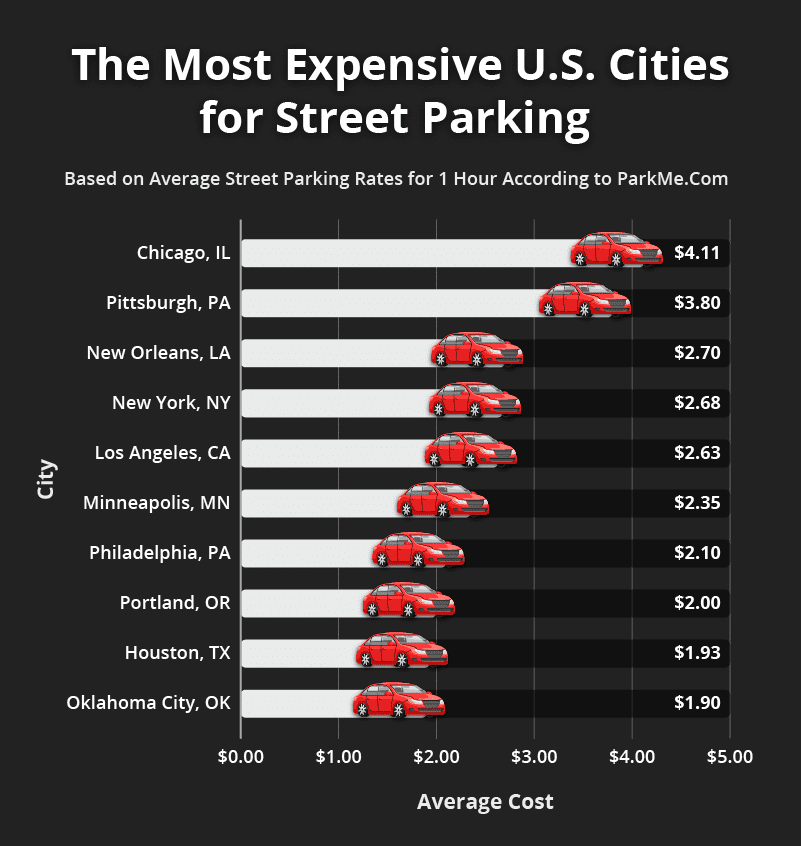 Street parking is often the go-to option for quick stops and downtown explorations. Yet, what might seem like a simple and cost-effective choice can quickly become another expense to budget for.
When it comes to curbside parking, the fluctuation in rates among different cities is apparent, reflecting the varying levels of demand in each location.
Topping the list is Chicago, IL, where the average cost of street parking is an astonishing $4.11 per hour. A city renowned for its vibrant cultural scene, it appears that Chicago also leads in the price for convenient street-side parking.
Following closely behind is Pittsburgh, PA, with its steel bridges and towering skyline, charging an average of $3.80 for an hour of parking.
Rounding out the top three at $2.70 an hour is New Orleans, LA, famous for its jazz and lively streets.
Whether you're catching a game, enjoying local cuisine, or taking in the architectural marvels, these figures provide a glimpse into the hidden costs that come with the freedom and accessibility of street parking in some of America's most iconic cities.
Percentage of Monthly Income Going to Monthly Parking
Parking is not merely a daily concern but can become a significant monthly expense, particularly in larger metropolitan areas. To shed light on this perspective, we found how the average cost of monthly parking compares to the average monthly income in various cities.
In the bustling streets of New York City, where the skyline stretches as far as the eye can see, parking in a garage every month would consume an eye-opening 17% of a New Yorker's average monthly income ($3,663) — meaning many commuters would spend over $600 monthly on parking alone.
Not far behind are residents of Philadelphia and Boston, who dedicate 11% and 10% of their respective monthly incomes to parking.
In Philadelphia, where the average monthly paycheck stands at $2,695, and Boston, where many earn $4,195 every month, the cost of monthly parking presents a real consideration for many urban commuters.
Closing Thoughts
Navigating the landscape of urban parking expenses can be as elaborate as the city streets themselves. From hourly rates to the percentage of monthly income consumed by parking, the costs vary widely across the U.S. Whether it's the hustle culture of New York or the more laid-back attitude of Riverside, these insights shed light on an essential aspect of urban living that often goes unnoticed.
Yet, no matter where you park, accidents can happen, and quality car insurance becomes indispensable.
Assurance IQ can help you navigate the complexities of finding and choosing auto insurance with personalized recommendations and advice. Our platform can guide you in comparing and getting car insurance coverage that fits your needs.
Methodology
To determine the most and least expensive cities to park in throughout the U.S., we analyzed parking rates in 50 popular U.S. cities on ParkMe.com, looking at the average costs between 9 AM and 5 PM on weekdays.
We determined the most and least expensive cities to park in by averaging all the rates listed in each city for 1 hour daily (9 AM – 5 PM) in a parking facility/garage. Additionally, we found the average cost of street parking based on hourly rates for 20 streets and ranked cities accordingly.
Finally, to calculate how much of an individual's paycheck could potentially go to parking, we compared the average cost of monthly parking in each city on ParkMe.com to the average monthly income in each city found in the U.S. Census Bureau.
Find an auto insurance policy that meets your needs.
Find an auto insurance policy that meets your needs.