Curious if your hometown is a top-tier Santa-spotting city? Check out our carefully curated list of prime spots for witnessing Santa and his magical reindeer in full flight on Christmas Eve. We've ranked them based on factors such as cities with avid Santa-tracking activity, minimal light pollution for those twinkling sleigh lights, and December skies that stay clear, ensuring you're always Santa-ready.
Here at Assurance IQ, we're just as excited as anyone for a chance to spot Old Saint Nick. But more than that, Assurance IQ can help you find home insurance policies to protect your home and belongings, including all the presents Santa just might bring! Read on to find out which cities are prime locations for a holly jolly spectacle.
Table of Contents
What Cities Would Be Ideal For Santa Spotting?
When it comes to choosing the perfect city for spotting Santa on Christmas Eve, several key factors come into play, each significantly affecting the probability of catching a glimpse of the jolly old man in his sleigh:
Cities with the highest search interest for the Santa tracker on Christmas Eve gain a competitive edge, as they would be more in tune with his movements and better prepared for his arrival. 
Cities situated at higher elevations offer enhanced vantage points for spotting Santa. 
Diminished light pollution enhances the visibility of the night sky, guaranteeing a clearer view. 
Lower numbers of residents with vision difficulties means most residents can enjoy Rudolph's shiny nose leading the sleigh.
Cities with weather conditions such as greater average visibility in December, reduced precipitation, and minimal December cloud cover create optimal conditions for witnessing Santa's magical journey.
The U.S. Cities With The Best Chance of Spotting Kris Kringle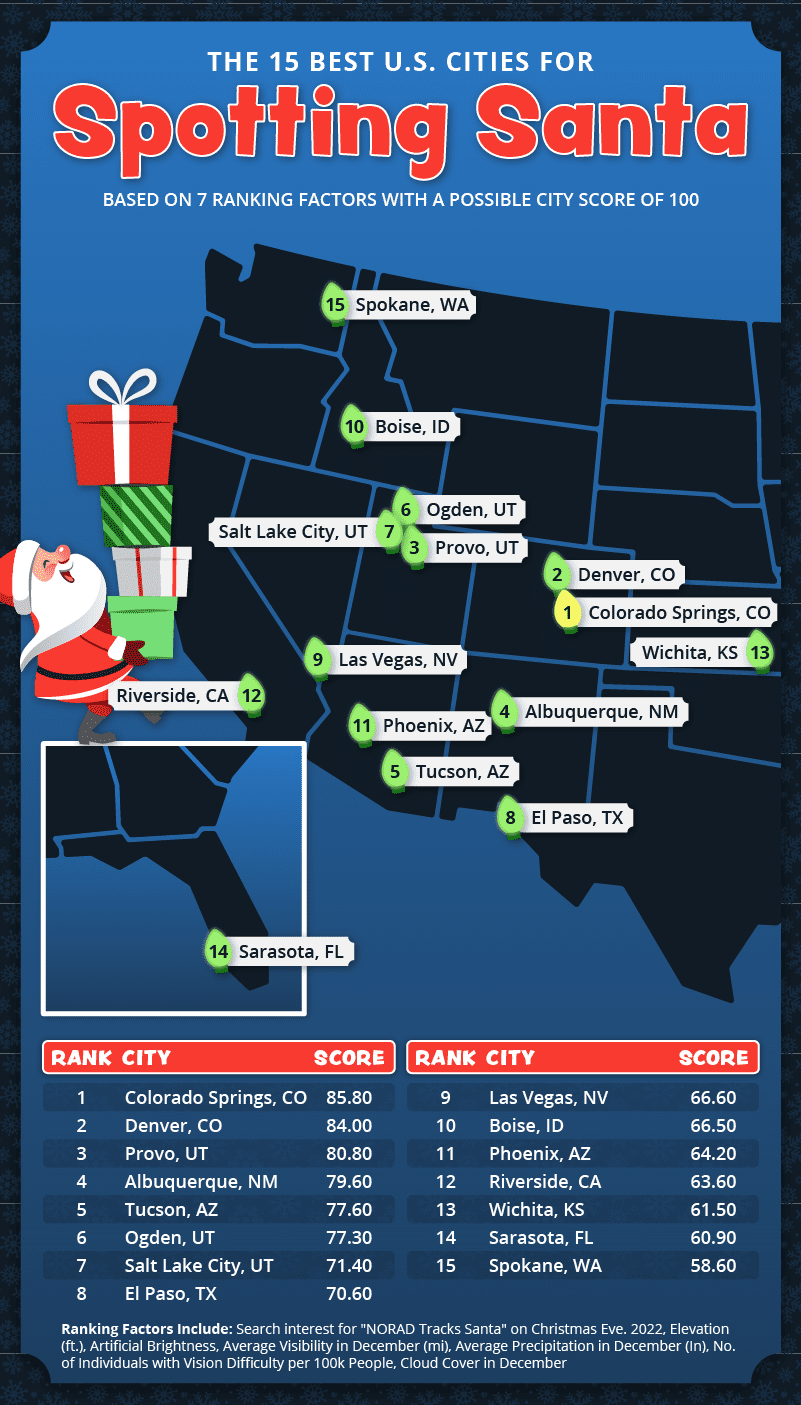 At the top of the list is Colorado Springs, CO. It's not just the altitude giving them a boost — this city is serious about its Santa search, combining high search interest with favorable stargazing conditions.
Denver, CO with its mile-high elevation follows with a score of 84.00, making the air crisp with holiday anticipation. This city's vibrant search activity and clear December nights make it a prime location for a St. Nick sighting.
Then comes Provo, nestled in the heart of Utah, scoring an 80.80. Provo residents are perched at an elevation perfect for Santa spotting.
Next, we venture into the deserts of Albuquerque, NM, and Tucson, AZ, with scores of 79.60 and 77.60, respectively, to round out the top five. Albuquerque's low light pollution and Tucson's minimal cloud cover offer residents a front-row seat to Santa's flight. Clear skies, combined with fervent Santa-tracking interest, make these cities a Christmas Eve hotspot for hopeful observers.
The Cities Offering the Clearest Night Skies for Spotting Santa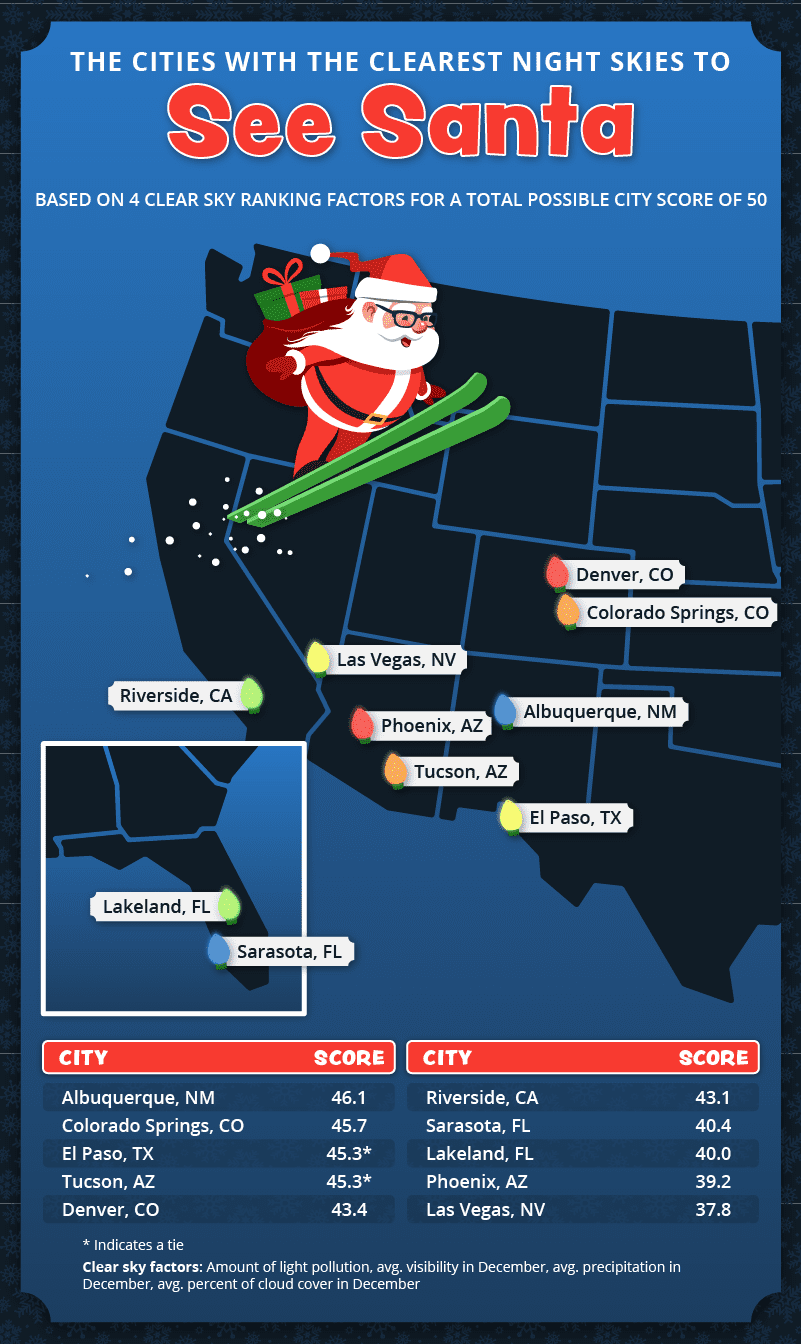 The anticipation is building, the cookies are baking, and eyes are firmly fixed on the night sky. But not all skies are created equal, and some cities offer a better view than others. Our team has crunched the numbers, focusing in on factors like light pollution, visibility, precipitation, and cloud cover during December. The results? A list of cities where the night sky is clear enough for Santa spotting. 
Here are the rankings, with a perfect score being 50:
Albuquerque, NM: With a score of 46.1/50, Albuquerque's night skies experience low artificial brightness, making it a prime spot for Santa spotters, especially with December's merry and dry weather.
Colorado Springs, CO: With a score of 45.7/50, the winter wonderland of Colorado Springs promises low cloud coverage and gentle snowfalls, offering a crystal-clear vista for those eager to catch a glimpse of Santa's sleigh.
El Paso, TX & Tucson, AZ: Both cities tie at 45.3/50, their vast desert skies serving as a grand stage for Santa's journey.
Denver, CO: Denver lights up with a 43.4/50, its remarkable December visibility making it a front-row seat for watching Kris Kringle's high-flying spectacle.
Riverside, CA: Coming in at 43.1/50, Riverside balances city lights with enough darkness to make sure residents don't miss Santa's sleigh.
Sarasota, FL & Lakeland, FL: Sarasota, with the softest glow of artificial light and a score of 40.4/50, along with Lakeland's 40.0/50, invite you to a balmy Florida night where Santa's jolly jaunt could be the highlight of your holiday.
Phoenix, AZ: Phoenix, with a warm 39.2/50, promises clear, serene skies as a backdrop to Santa's magical desert dash.
Las Vegas, NV: Las Vegas may dazzle with neon, but a score of 37.8/50 tells us that the high desert skies are vast enough to catch Santa's reindeer light up the horizon.
Cities That Are Hot on Santa's Trail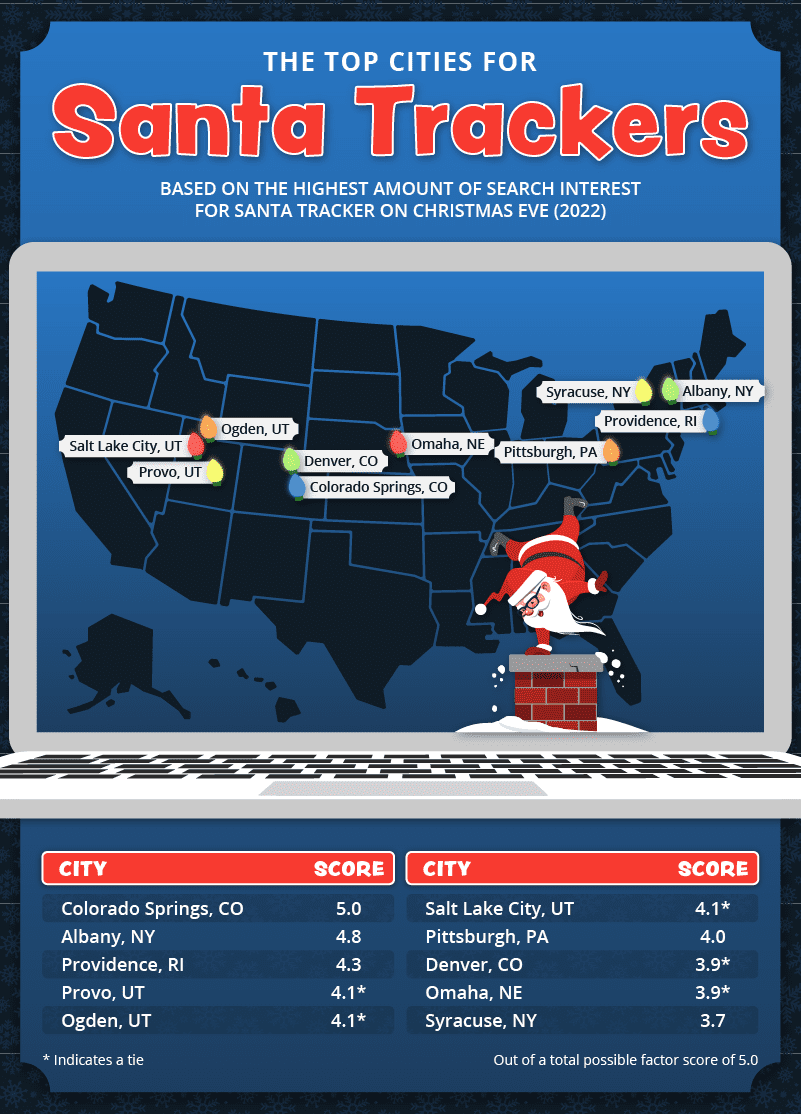 As Santa embarks on his epic yearly journey, some cities show their festive spirit and keen anticipation by being the most vigilant Santa trackers.
Here's a list of locations where the search for Santa truly heats up, according to the amount of Google Trends search activity for Santa-tracking sites on Christmas Eve last year.
Each city has been scored out of a total possible 5 points for their tracking enthusiasm:
Colorado Springs, CO: Leading the pack with a perfect 5.0, this city proves that its residents are as enthusiastic about tracking Santa as they are about celebrating their picturesque snowy Christmas.
Albany, NY: Not far behind at a spirited 4.8, Albany's skies buzz with excitement as eyes look for a glimpse of the big man in red.
Providence, RI: This city scores a jolly 4.3, where the holiday cheer is as strong as the desire to spot Santa's and his reindeer crew.
Provo, Ogden, & Salt Lake City, UT: These three cities share a merry score of 4.1, reflecting Utah's keen spirit in keeping an eye out for Rudolph's red nose leading the sleigh.
Pittsburgh, PA: With a score of 4.0, the Steel City transforms into a Santa surveillance hub, showing that they take their festive traditions seriously.
Denver, CO: Denver's love for holiday magic shines with a score of 3.9 as they eagerly await Santa's visit with one eye on the sky and one on the screen.
Omaha, NE: This city matches Denver with a 3.9, where the Christmas spirit is as strong as the wind on the plains, driving everyone to be on Santa watch.
Syracuse, NY: This city wraps up the list with a cozy 3.7, where the anticipation for Santa's flyby is as much a tradition as the snow is a guarantee.
Closing Thoughts
Cities across the U.S. keep the holiday magic alive as kids and adults alike hope for a chance of spotting Santa Claus this Christmas Eve. But while you and your family keep an eye on the sky for a glimpse of a sleigh, Assurance IQ can help you safeguard the things that matter most right here on the ground. 
Methodology
To identify the prime cities for Santa spotting, we looked at the 100 most populated cities in the U.S. We allocated each city a rank from 1 to 100, considering various factors that we believe affect the probability of observing Santa traverse the night sky on Christmas Eve. 
We gave each factor a specific weight based on its presumed influence on the likelihood of sighting Santa. With these weightings, we scored every city out of a possible total of 100. Cities with higher scores are locations where residents have a better chance of seeing Santa on his sleigh.
A comprehensive list of the ranking factors and their respective sources is below:
Ranking Factors: