Americans across the country have joined the movement to become more environmentally friendly in several aspects of their lives, and the home is no exception. The demand for sustainable properties continues to rise in the U.S. as house hunters realize their environmental (and financial) benefits.
Certain mortgage lenders offer credits and discounts for green homes and an Energy-Efficient Mortgage (EEM) is available for those purchasing or refinancing an energy-saving home. What's more, some LEED-certified homes may be eligible for a 5% discount on insurance premiums. Lower utility bills, better air quality, and sustainable construction are other important factors incentivizing homebuyers.  
While this movement spans the country, some cities and states provide more options for people opting to go green. In this study, Assurance IQ analyzed eleven environmental ranking factors such as the number of green homes for sale, clean energy adoption, solar panel installations, recycling regulations, and more to determine which states have the most green homes and which areas are best for the energy-conscious resident. 
Read on to find out if your state is a leader in the green home revolution.
Key Findings
Oregon is the best state for green homes overall, earning a score of 39.7 out of 50. The number of green home listings in Oregon exceeds the national average by 109%. Over 52% of homes use electric heating and nearly 48% of the state's energy consumption is renewable (solar, wind, and hydroelectric, among others).
Atlanta, Georgia has the most green home listings on Redfin––543 homes (per 100,000 residents). Redfin classifies "green homes" as homes with LEED certification, Energy Star certification, solar panels, energy-efficient appliances, or other green features.
Nevada is the state with the most homes powered by solar energy (136,340 homes per 500,000 residents), and California has the most state incentive programs for renewables and efficiency (161). These programs include incentives like tax credits, grants, and rebates.
Going Green: The Best States for Green Homes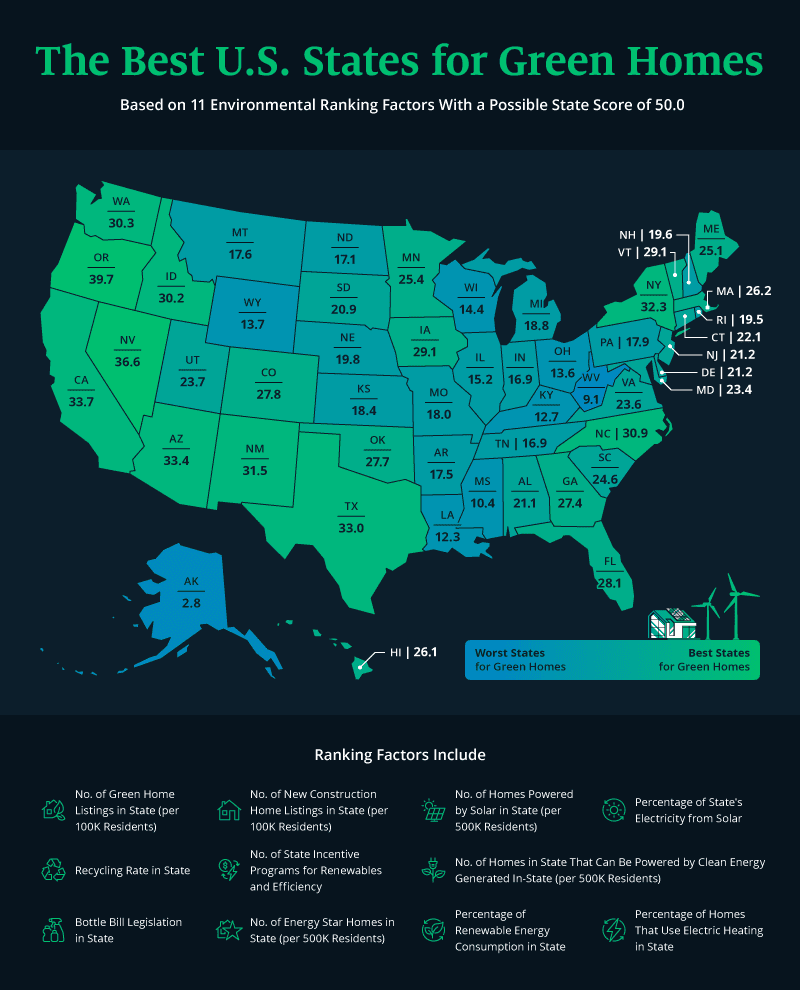 Homebuyers typically move in hopes of finding where the grass is greener. For some buyers, that means finding an environmentally friendly home with potential energy savings. No matter where you are in the country, each state has its own advantages for residents who wish to be good stewards of the Earth. From incentive programs to solar power, here are a few states that stand out when it comes to making the world a greener place to live.
Washington is leading the country when it comes to switching to renewable energy. Nearly 50% of Washington's energy consumption comes from renewable sources. There are also 85 state incentive programs to encourage more residents to switch over to cleaner sources of energy. Not only will moving to Washington place you in good company, but the state will also reward you for doing your part in eliminating wasteful energy consumption.
For homebuyers who are looking for a vacation home that is both luxurious and eco-friendly, sunny Florida has just what you need. Florida has the most homes with electric heating in the country by a large margin at nearly 91%. Vacationers can enjoy fresh air inside and out, as electric heating does not create any emissions, leaving indoor and surrounding outside air free from harmful pollutants like carbon monoxide.
If you're passionate about recycling, then Maine is the perfect place for you. Maine has the highest recycling rate in the country at 74%. That means nearly three-quarters of the population is doing their part to reduce waste that eventually ends up in landfills and oceans. Maine's Department of Environmental Protection aids the recycling effort by providing technical and educational assistance to residents, municipalities, schools, and businesses to help recover resources from the waste stream.
The Top Six States for Green Homes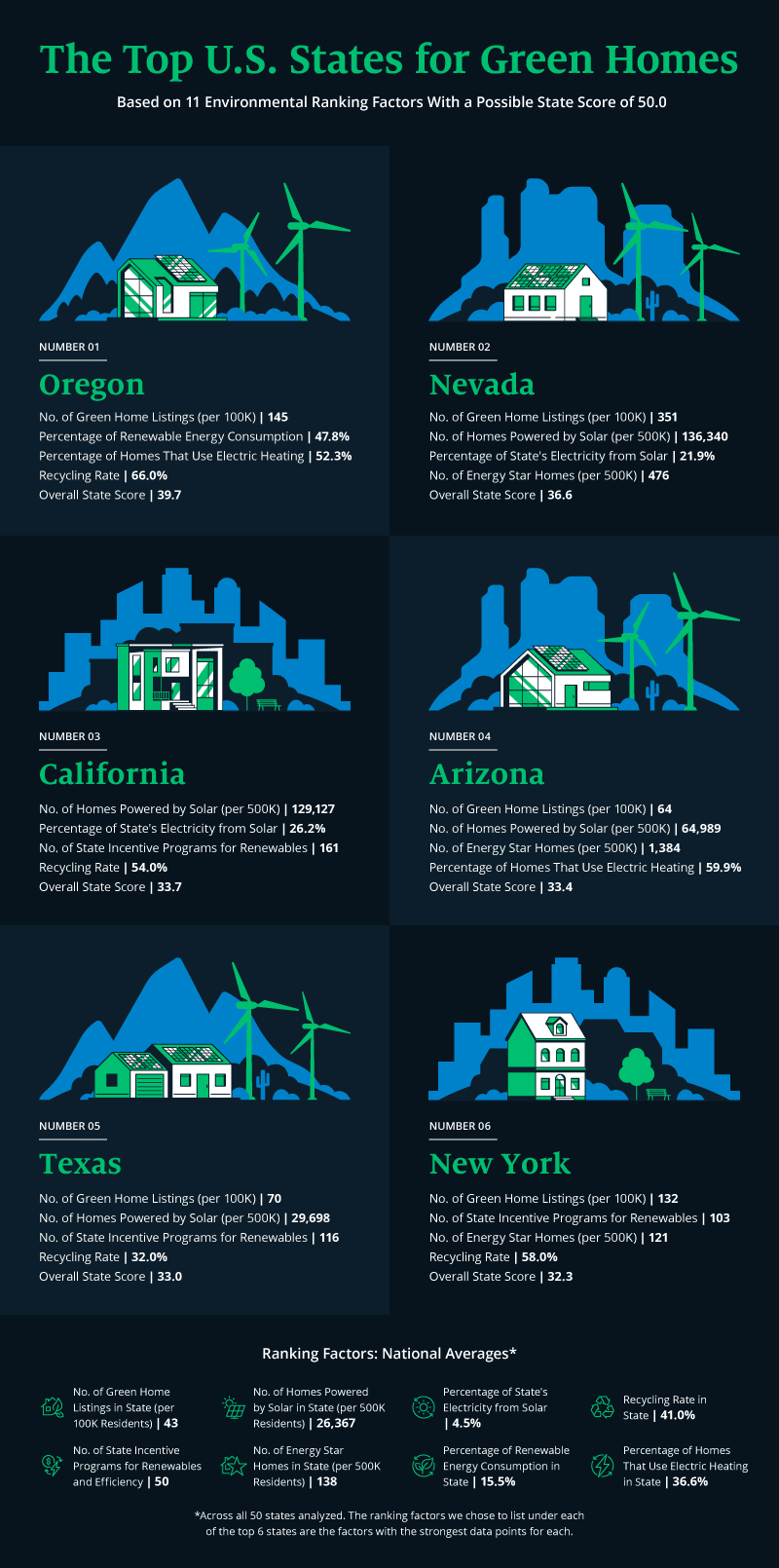 Oregon comes in first overall as the number one state for green homes. Compared to the rest of the country, Oregon excels in almost every category, from renewable energy and recycling to green real estate and incentive programs. Oregonians work hard to preserve the state's natural beauty; tourist attractions like the Oregon Redwood Trail and Crater Lake depend on residents doing their part to keep the air fresh and the water clean.
Oregon isn't the only western state that stands out as a great place to find a green home. In fact, three more states in the American West take up spots in our top six. Arizona, California, and Nevada each have a positive impact on reducing carbon emissions and creating a cleaner place to live. Arizona has more Energy Star-certified homes than any other state, while California leads the U.S. in solar electricity usage and incentive programs for renewables.
Cities With the Most Green Homes On the Market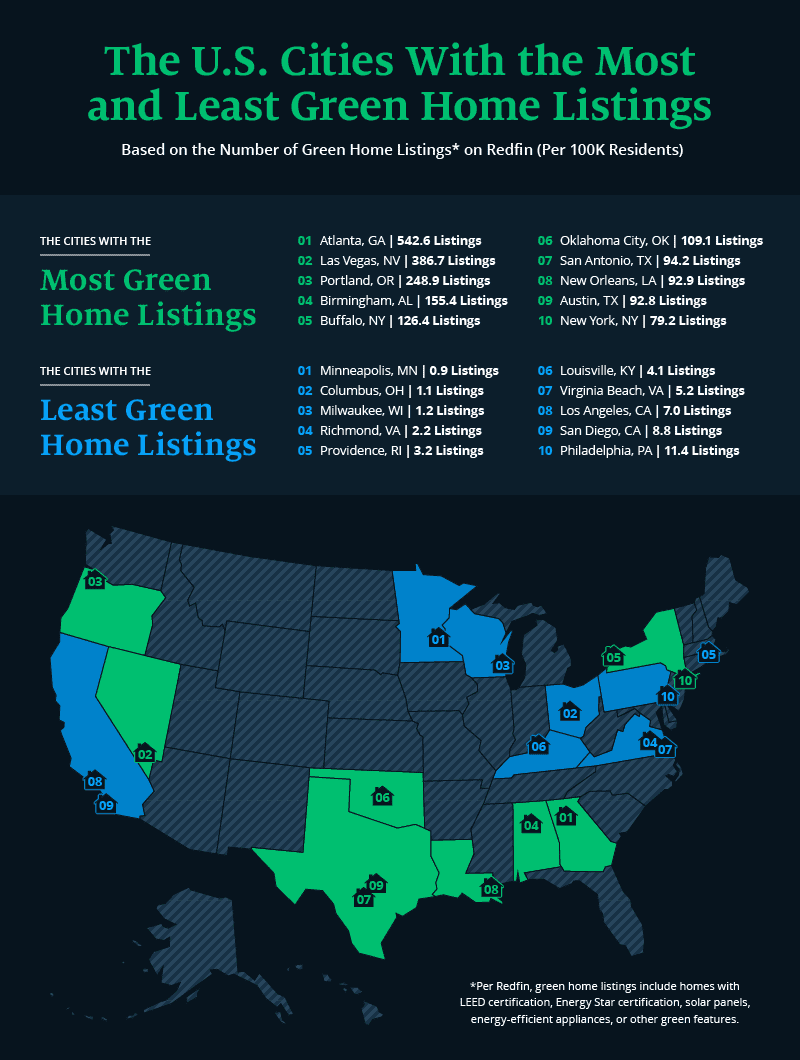 When it comes to cities that are doing their part in the ongoing battle against climate change, Atlanta, Georgia, comes in first as the city with the most green homes up for grabs. Atlanta alone has over 2,600 green homes available on the market right now. Homebuyers in the South looking for a new home that is both beautiful and eco-friendly won't have to pack up their bags and settle somewhere out west, thanks to Atlanta providing a bastion of green living on the east coast.
If you're an energy-conscious house hunter, you might consider warming up to Nevada. Las Vegas, specifically, has over 2,500 green home listings, putting it just behind Atlanta, as the city with the highest number of green homes for sale. Portland, Oregon ranks third with 1,596 green home listings.
Do Home Insurance Policies Offer Green Home Discounts?
Living in a green home has benefits that reach beyond reducing pollution and eliminating waste––it can also save you money on home insurance and taxes. Many green insurance incentives reward homeowners for switching to solar power and switching out appliances with energy star-certified products.
For example, LEED-certified homes might be eligible for a 5% discount on insurance premiums. Some states even provide homeowners with rebates and tax credits for switching to solar power. If you're interested in learning more about what certifications and credits are available, review your home insurance policy's terms and consult with your agent about coverage requirements.
Closing Thoughts
Americans are making the world a cleaner place to live. While certain spots in the country provide more assistance to good stewards of the environment than others, every state has programs and incentives to encourage residents to do their part. Next time you go house hunting, pay extra attention to green homes in your area. Not only can those homes help you protect the environment, but they can also help you save money.

Some insurance policies offer discounts for green homes or installing solar panels in your home. In many states, government programs will offer residents incentives for renewables and energy efficiency. At Assurance, you can compare home insurance plans to find one that works best for your budget and individual needs.
Methodology
We considered 11 environmental ranking factors to determine which of the 50 U.S. states are the best for green homes. We assigned states with a score of 0-5 for each factor, with a score of 5 representing the most favorable conditions. We determined each state's total score from the total of its individual factor scores, which were weighted according to their impact on green homes. Individual factor scores were then added together to give each state a final score from 0-50. Higher scores indicate states are better for green homes.
Ranking factors include:
No. of Green Home Listings
No. of New Construction Home Listings
No. of Homes Powered by Solar
Weight: 1.00
Source: SEIA
Percentage of State's Electricity from Solar
Weight: 0.50
Source: SEIA
No. of Homes that Can Be Powered by Clean Energy Generated In-State
Average Recycling Rate
Bottle Bill Legislation
No. of State Incentive Programs for Renewables & Efficiency
Weight: 1.00
Source: DSIRE
Percentage of Renewable Energy Consumption in State
Percentage of Homes That Use Electric Heating
No. of Energy Star-certified Homes & Apartments